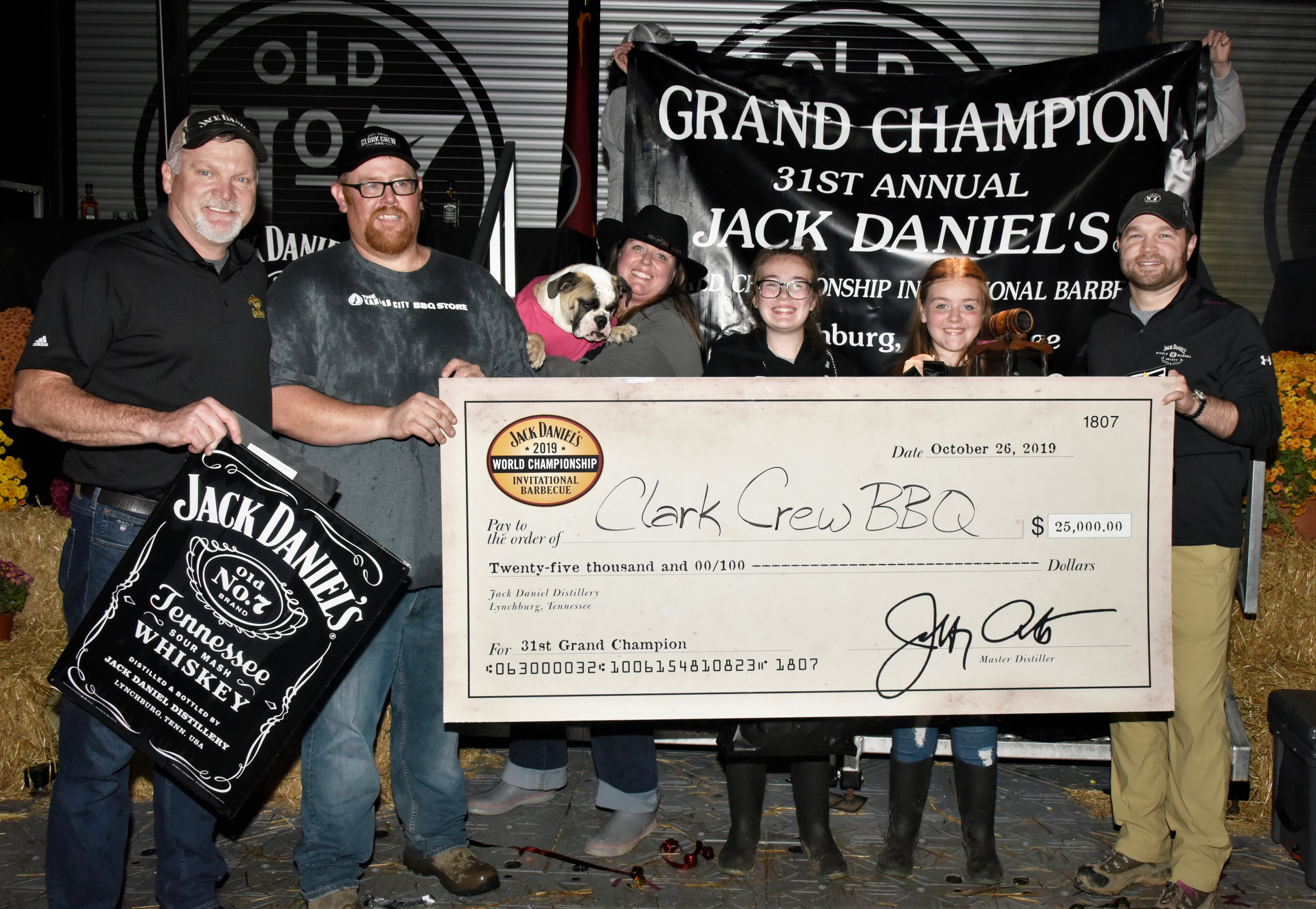 LOCAL NEWS — Clark Crew BBQ won top honors last night at the 31st annual Jack Daniel's World Championship Invitational Barbecue. It's their fifth time to compete and first Grand Champion win.
They traveled all the way from Yukon, Oklahoma to earn $25,000, braggin' right for the year, and a guaranteed invitation to defend their title next year.
"It's just amazing, really. We're completely thrilled to win The Jack," said Pitmaster Travis Clark. "At every event we compete in, we try to be as consistent as possible. We felt great about our entries this year at The Jack, so we were just really hopeful that the judges liked them enough for us to be successful."
Travis credits fierce competition on the KCBS sanctioned circuit as a secret to his team's success. Led by Travis and his wife, Kimberly, the team began competing in 2013. They've amassed 650 Top 10 awards since then, including the overall title at the 2017 American Royal World Series of Barbecue.
It was close this year, with three team scoring above 700. Here's a list of the final standings:
Rank Team Name Total
1 Clark Crew BBQ 705.1544
2 Shake 'n Bake BBQ 703.4056
3 Redneck Scientific 700.5256
4 T Mac Smokin 699.9884
5 Bunch of Swines 699.4056
6 Timbone Barbeque 698.2856
7 Burnin and Lootin 694.8456
8 Rio Valley Meat BBQ 694.2972
9 Boomerang BBQ 693.1428
10 Smokin' Gringo's BBQ 693.1084
11 Paddy McQ's 693.0972
12 Good Smoke BBQ 692.5600
13 Rusty's BBQ 691.9772
14 Smoke324 BBQ 690.7768
15 Uncle Pig's Barbeque Pit 690.2168
16 White Squirrel Bbq 689.7028
17 Big Raz BBQ 689.6456
18 Fire Down Below 689.0512
19 Gettin' Basted 686.8228
20 Pig-Chicka-Cow-Cow 686.8224
21 Grey Street BBQ 686.2860
22 Spitfire 686.2628
23 Miss Piggy's U.K. 686.1940
24 Angry Jack BBQ 685.1540
25 Contagious Q 685.1312
26 Old Colony Smokehouse 685.1196
27 4 Legs Up BBQ 685.0968
28 Buckshot BBQ 684.6400
29 Vallee A/C Cold Smoke 684.5484
30 Team Meat Coma 683.9656
31 Razorracks 683.4056
32 Double G Southern Bbq 682.8344
33 Rub My Rack 682.1824
34 iBQ'[email protected] 681.0972
35 Big Poppa Smokers 679.9084
36 Sublime BBQ 679.9084
37 Warpig BBQ 679.4172
38 Continental Barbecue Co. 679.3940
39 BBQ Rangers Belgium 679.3828
40 SmellaQue 679.3708
41 Insane Swine BBQ 678.1824
42 Rooters-n-Tooters 677.6224
43 You Que'd Me All Night Long 675.9656
44 Aporkalypse Now 675.9428
45 Keep Calm & Sauce On 675.9196
46 %23Midnight Smokers BBQ 675.8972
47 Fire At The End of the Day 675.3484
48 Smokin O's 674.1596
49 Operation BBQ Relief 673.7256
50 Cool Smoke 673.6684
51 Smokey and His Bandits 673.6112
52 Smoke Me Silly 673.0856
53 Iowa's Smokey D's BBQ 673.0284
54 Local Yokels BBQ 671.9312
55 A Mazie Q 671.8972
56 Rocky Mountain Smokers 670.8000
57 Montana Outlaw BBQ 670.7768
58 Brisket Bones n Brews 670.7768
59 WV Loc-N-Loaded BBQ 670.1940
60 Parrothead Smokers 669.0396
61 Heavy Smoke STL 667.9312
62 The Specialists 667.9196
63 Smokin' Hoggz BBQ 667.8740
64 Divine Swine 667.3828
65 Moe Cason Barbeque 666.2172
66 Smokin' Rack BBQ 663.3024
67 Fastlane BBQ Crew 662.7540
68 M&K BBQ 662.7424
69 Eggspert BBQ Minnesota 662.7200
70 Killer V Cooking Team 661.7024
71 Parkstad Smokers 661.6220
72 Ridge Route Boys BBQ 661.1312
73 B-S BBQ Outlaws 661.0056
74 Weekendsmokers Competition BBQ Team 660.5024
75 The Pig's Pajamas BBQ 660.4568
76 Cajun Blaze 659.8628
77 BBQ Freaks Puerto Rico 659.3028
78 Butcher BBQ 657.0280
79 Suncity BBQ 655.9424
80 Dante's Inferno 654.7884
81 Pelon Parrillero 650.8344
82 Luna Smoke 650.2168
83 Team Bbqwar NZ 649.6112
84 Grill Ueli BBQ Team 649.0284
85 Maddogs' BBQ 646.6628
86 Swamp Boys 644.5024
87 Smoke Troopers 643.9772
88 Cooklounge BBQ 643.9196
89 BBQ Brothers 643.9196
90 Sweaty Hogs 641.0972
91 Good Old BBQ 638.2404
92 Black Forest 630.2512
93 Fine Young Carnivores 629.6000
94 Food Venture 628.4112
95 Swine Fellows 623.3140
96 Salzburger Barbecue Bulls 614.6968
97 Polish BBQ King-Smoker 610.2056