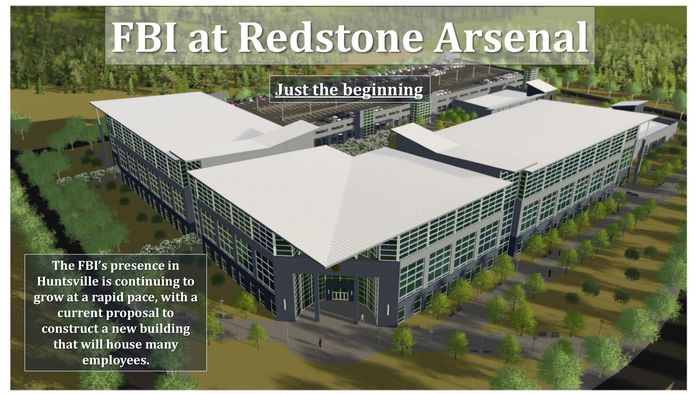 REGIONAL NEWS — It's a little know fact that right down the road in Huntsville, Alabama exists the Federal Bureau of Investigation's (FBI) Hazardous Device School. It's been housed on Redstone Arsenal since 1971 and it provides the basic certification for every bomb tech in the country. It shares space with two other FBI facilities: the Ballistic Research Facility and the Terrorist Explosive Device Analytical Center.
In 2021, the FBI will extend it's presence in Rocket City with an expansion set to add around 1,400 jobs immediately and ultimately reach between 4,000 to 5,000 additional jobs. The Army leased nearly 1,600 acres to the FBI for a six building campus – three of which already exist.
The history of Rocket City
Huntsville has long been a STEM hub focused on technology, aerospace, and defense. Built in 1941, Redstone Arsenal sits along the banks of the Tennessee River just outside Huntsville on 1250 acres. It originally served as a chemical weapons plant during World War II and then transitioned into aerospace.
NASA's Marshall Space Flight Center, located inside Redstone, played a key role in developing the Saturn launch vehicles used in the Apollo Program. It also served as the lead center for the Space Shuttle's main propulsion and external tank. It works in tandem with both the Kennedy Space Center and Cape Canaveral Air Force Station.
In total, Redstone is home to over 60 federal agencies and contractors specializing in aerospace and defense. It averages 36,000 to 40,000 personnel per day.
Huntsville will be HQ2
Insiders at the FBI now casually refer to the new Huntsville site as HQ2. It's the culmination of a decision to scrap plans to build new headquarters just outside the Washington D.C. area. Instead, the FBI decided to expand into other states including Virginia, Idaho, West Virginia as well as Alabama. According to FBI officials, they will collaborate with other agencies at Redstone in addition to area colleges and universities to develop talent.
Those interested in job opportunities should keep a careful eye on their Recruiting Events page for upcoming opportunities to learn about FBI careers. To learn more, visit www.fbijob.gov/huntsville. •
{The Lynchburg Times is an independently owned and operated newspaper that publishes new stories every morning. Covering Metro Moore County government, Jack Daniel's Distillery, Nearest Green Distillery, Tims Ford State Park, Motlow State Community College, Moore County High School, Moore County Middle School, Lynchburg Elementary, Raider Sports, plus regional and state news.}