STATE MEDICAL NEWS | Nashville — On Friday, U.S.-based pharmaceutical giant Merck & Co. said it would seek authorization for the first oral antiviral pill to treat COVID-19, after a clinical trial showed it cut the risk of hospitalization or death in half when given to high-risk people during infection.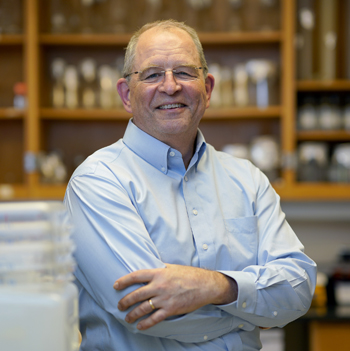 The drug, known as molnupiravir, was first shown to be efficacious against coronaviruses including the COVID-19 virus, SARS-CoV-2, by investigators in the lab of Mark Denison, MD, at Vanderbilt University Medical Center, and their colleagues at the University of North Carolina at Chapel Hill. Initially developed by the Emory Institute for Drug Development (EIDD) in Atlanta, the drug — then called EIDD-1931 (oral form, EIDD-2801) — was subsequently licensed to Merck and Miami-based Ridgeback Therapeutics, which announced the results of the phase 3 clinical trial today.
"While we wait to review the detailed studies and results, we are very pleased but not surprised that molnupiravir has performed so well in humans," said Denison, an internationally known authority on coronavirus biology who holds the Edward Claiborne Stahlman Chair in Pediatric Physiology and Cell Metabolism at VUMC.
"All of the lab and animal studies performed by our groups indicated that molnupiravir could be a very effective oral antiviral," he said. "It is especially encouraging that the trials were stopped early because of the clear benefit."
In November 2019, Denison's group reported that EIDD-1931 blocked replication of multiple coronaviruses in laboratory tests and prevented the viruses from developing resistance against it. The work was conducted in conjunction with UNC scientists Ralph Baric, PhD, Timothy Sheahan, PhD, and their colleagues. Andrea Pruijssers, PhD, former lead antiviral scientist in Denison's lab who is now at Merck, provided the first evidence of its potent activity against SARS-CoV-2.
If the clinical trial results are confirmed and supported by a U.S. Food and Drug Administration review, "we believe this could have a major impact to treat and prevent disease, not just with COVID-19, but also with other human coronaviruses or future emerging coronaviruses," Denison said. Denison's group also contributed to the development of remdesivir, the first drug approved by the FDA for use in patients hospitalized with COVID-19.
Given by intravenous infusion, remdesivir was approved in October 2020 after three clinical trials showed it improved symptoms and hastened recovery. More recent trial results show remdesivir treatment decreases hospitalization and death by 87% when given to high-risk COVID-19 patients early during infection. In addition, the VUMC researchers contributed to development of Moderna's COVID-19 vaccine, which was granted emergency use authorization by the FDA in December 2020. They analyzed the ability of the vaccine to stimulate robust immune responses against SARS-CoV-2 in a phase 1 clinical trial. Much of the coronavirus research was supported by the National Institutes of Health (NIH).
Added Denison: "We continue to test and discover new antivirals in NIH-supported research programs and with new drug development companies.
"We believe it is critical to continue fundamental research in coronavirus biology to find its weaknesses and develop many different antivirals that can be used in combinations," he said. "We must continue this work." •
{The Lynchburg Times is the only independently owned and operated newspaper in Lynchburg. We cover Metro Moore County government, Jack Daniel's Distillery, Nearest Green Distillery, Tims Ford State Park, Motlow State Community College, Moore County High School, Moore County Middle School, Lynchburg Elementary, Raider Sports, plus regional and state news.}