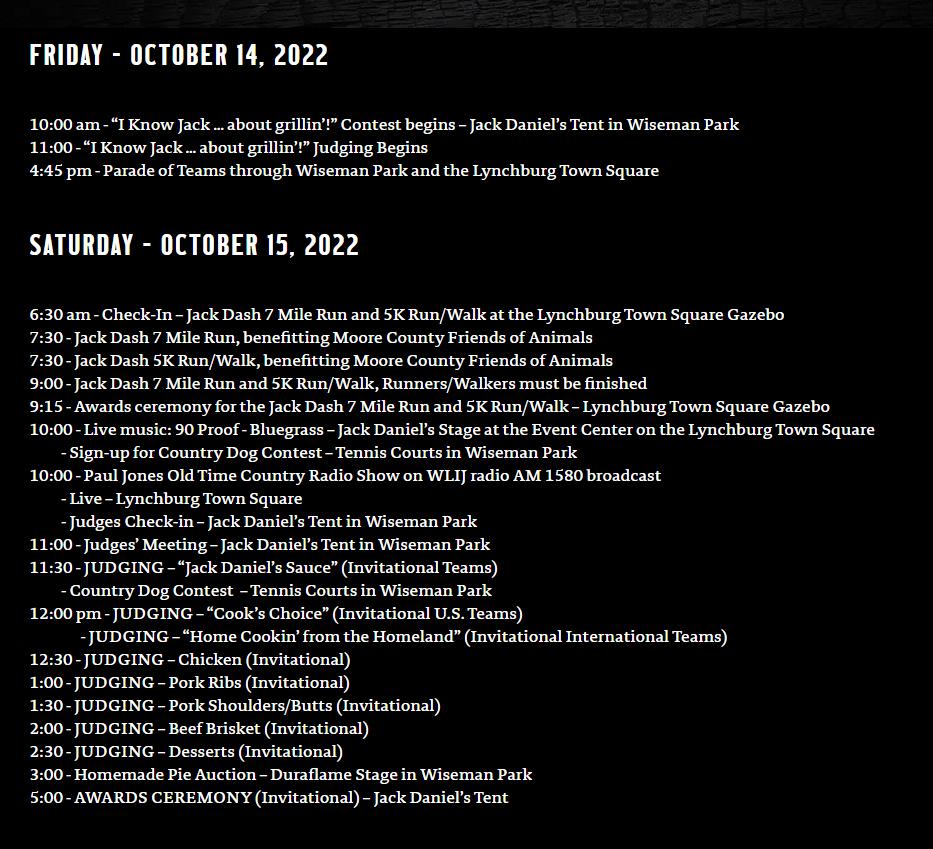 It's here. It's finally here. The air smells like wood smoke. The weather is gorgeous. The stage is set for a fabulous Jack Daniel's World Invitational Championship Barbecue. Here's an official schedule of the events happening today and tomorrow in Lynchburg. We picked several "official" and an unofficial event we think you shouldn't miss this weekend.
1 | The Parade of Teams on Friday — Yes, the majority of public activities surrounding The Jack happen on Saturday but there's one Friday event that always stands out to us, the Parade of Teams around the historic Lynchburg Square. It's one part Mardi Gras parade as numerous teams throw out flags and favors and one part unofficial kick off. This year should be especially festive as our international teams return to Lynchburg.
2 | The Homemade Pie Auction on Saturday — It's a well-known fact to those who live in Lynchburg that a dedicated group of local historians work numerous volunteer hours to make sure not one drop of local history gets lost around here. The Moore County Historical Society has become a unofficial sister organization to the Moore County Archive. Their official Facebook page contains hundreds of photo, document, and other relics that tell not only the story of the distillery but also the town of Lynchburg. You can support them in the most delicious way possible at the Homemade Pie (and maybe a few cakes too) Auction in Wiseman Park at 3 p.m.
3 | Jack Daniel's Historical Memorabilia & Rarities Book Signing — Speaking of the Moore County Historical Society, one of their members, Mike Northcutt, and his co-author, Don Cauwels, recently wrote the "unofficial" book on collecting items related to the distillery called Jack Daniel's Historical Memorabilia & Rarities. The duo have travelled all over the U.S. treasure hunting for jugs, bottles, historic photos, books, and other items. Their 150 page book is filled with rare items you'll probably never see again. You can meet both authors, buy a copy of the book, and get it signed during the Barbecue. Just look for the brick house located just outside the Wiseman Park footprint with all the signs.
{The Lynchburg Times is an independently-owned, community newspaper located in Lynchburg, Tennessee the home of The Jack Daniel Distillery. We focus on public service, non-partisan, rural journalism. We cover the Metro Moore County government, local tourism, Moore County schools, high school sports, Motlow State Community College, as well as whiskey industry news and regional and state stories that affect our readers.}