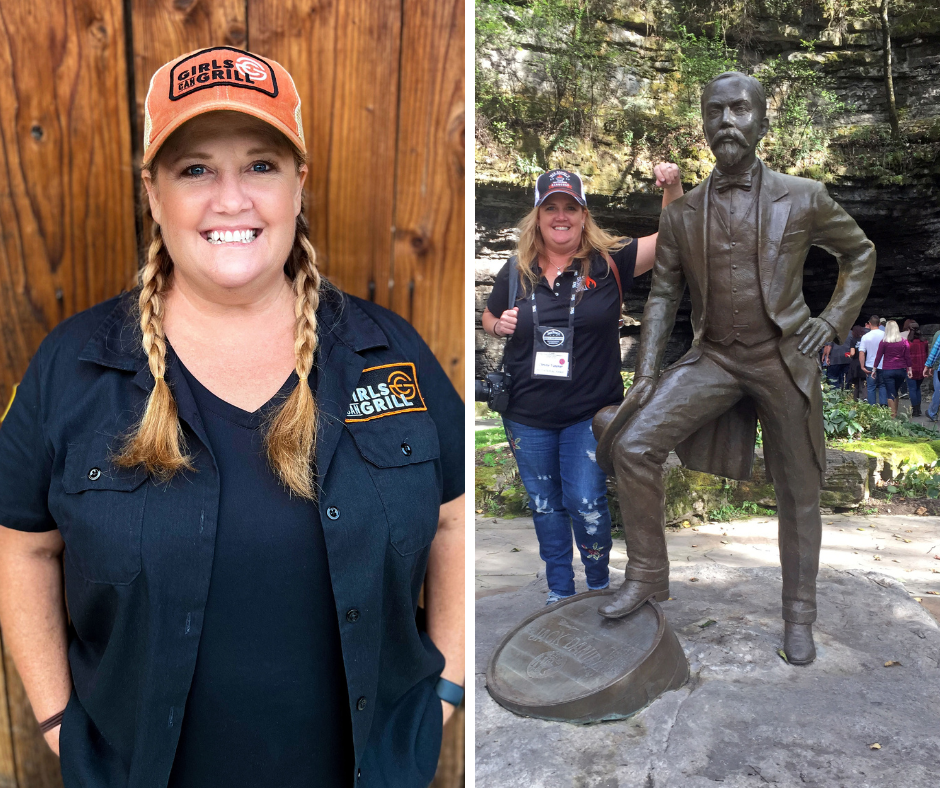 Barbecue world personality, competitor, judge, and entrepreneur Christie Vanover says her well-known website Girls Can Grill isn't just for women. Anyone can access her recipes, grill tips, and guides. But when she learned that research showed that just 30 percent of American women feel comfortable behind the grill, though many more express an interest, she knew she's found a niche.
Over the past several years, she's turned that niche into not only a successful website but also her own line of barbecue dry rubs and an impressive barbecue competition circuit resume. This weekend in Lynchburg, she'll check off one more box — competing in The Jack for the first time.
The Times recently caught up with her to talk about turning a passion into a thriving business as well as why Lynchburg was on her barbecue bucket list.
LT: If our research is correct, you've judged The Jack in the past five years. This year you will compete as one of the 50 domestic teams. Is this your first time competing instead of judging in Lynchburg? Can you also tell us a little about the path you took to get here?
Vanover: I started judging and competing on the barbecue circuit in the spring of 2017, and I judged my first Jack in October 2017. When I first arrived in the judges' tent, I was awestruck that I was in the company of several BBQ hall-of-famers and other legends in the BBQ world. Then, when I took my first bite at the judges' table, I was so impressed with the turn ins. The skill that the teams had in creating the perfect bite had me yearning to work hard to get to their level.
I attended several competition BBQ classes and studied the sport of BBQ through social media, more judging, friendships and trial and error. I competed on the circuit and slowly began to get more and more award-winning calls. Finally in November 2021, I won my first Grand Championship in California, which earned me one bung for the Jack Draw. I followed that with another win in May 2022 in Nevada, which guaranteed me my first spot at the 2022 Jack.
LT: We read that competing in Lynchburg has been a goal of yours since 2017. What's special about The Jack and why did it become a bullseye for you?
Vanover: The Jack is special in two ways for me. First, my sister has worked for Jack Daniels out of Louisville for several years, and second, it's the most prestigious competition in barbecue. Prior to visiting Lynchburg, I didn't truly understand the Jack brand. When my sister introduced me to the Jack team and I took my first distillery tour, it was like I had stepped back in time to an era where people cared about each other and cared about what they produced. Lynchburg is the true essence of America.
As for the competition, it's very hard to earn an invitation, because not only do you have to win a state championship, but you also have to get selected in the draw. The moment I arrived in Lynchburg to judge my first Jack, I knew that I wanted to cook it someday. I knew it was going to be really hard to make it to that level, but I never back down from a challenge.
LT: How many barbecue competitions have you cooked in since 2017 and how many have you placed in?
Vanover: I have cooked in 27 Kansas City BBQ Society (KCBS) competitions since 2017. For individual categories, I have placed in the top 10 in 22 of the competitions. Overall, I have placed in the top five eight times and have won first place three times. I also compete in the Steak Cookoff Association and tied for eleventh place in the world for the ancillary division in 2021.
LT: Can you talk about what it takes to get yourself and your team ready to compete?
Vanover: I'm the only cook for my team, but I couldn't do any of this without my teammates. My husband and father-in-law handle logistics, like loading and unloading, and watching pit temps. My mother-in-law and best friend support me with building boxes, doing dishes, taking pictures, and keeping me on my timelines. The first thing I do to get ready is finalize my recipes and timelines. I'm very organized. After every competition, I analyze what worked and what didn't work, and I may make small adjustments before the next cook.
For the Jack, I went back and reviewed all of my scores for 2021 and 2022 and all of my personal review sheets, and I honed in on what I hope will be perfect recipes and methods for Lynchburg. Next, I sourced all of my meats and other products. Then, we started packing the trailer about a week before leaving. I have found when my stress level is low, I do a lot better. So, by having everything organized, the day should run like a well-oiled machine.
LT: What is your total website and social media reach? Do you ever get recognized out there in the real world? And would you consider yourself a barbecue social media influencer?
Vanover: I can be found at girlscangrill.com and on all social channels @girlscangrill. I reach about 5.5 million people a month through my different platforms. I have been recognized a couple of times by people when I was out doing normal activities, but I am by no means famous. I guess some people would call me a social media influencer, but really my goal is to be a teacher and someone who inspires people (especially women) to learn how to grill and barbecue.
LT: Is barbecuing your full-time job? What did you do before? And would you say to other women (or people in general) who want to turn a passion into profits?
Vanover: Yes. I'm proud to say that now barbecue is my full-time job. I started my barbecue business in 2015 while still working full time as a park ranger for the National Park Service. In April 2022, when I finished 20 years with the federal government, I was able to take an early retirement and pursue my BBQ business full time.
If you want to turn your passion into profits, never stop learning. I don't make a living just because I know how to barbecue an amazing brisket. To be successful, I have to produce an ever-current website with quality search engine optimization while managing multiple social media platforms and analyzing trends and insights. And it's important to get your fiscal house in order with minimal debt, decent savings, and medical benefits before jumping from a traditional career.
LT: You're obviously very familiar with Lynchburg. What do you like most about our little town? Do you have favorite spots you try to hit when you are here?
Vanover: When I drive into Lynchburg, the first thing I love is the aroma of mash in the air and the rustling autumn leaves. My favorite place is actually up on BBQ Hill where I can view the town from above and watch the sunset across the Tennessee sky. But Lynchburg is more than aromas and views, what makes it really special are the people. It's a place where everyone is kind enough to hold the door for your when you walk into a store. Where you still hear yes ma'am and please and thank you. Every time I leave Lynchburg, I leave with a smile and heart filled with joy. In a world so filled with chaos, it's a refreshing treat.
If you'd like to learn more about Vanover, you can visit her website at GirlsCanGrill.com. You can also follow her on Facebook, Tik Tok, Instagram, Twitter, Google, and Pinterest at @girlscangrill. •
{The Lynchburg Times is an independently-owned, community newspaper located in Lynchburg, Tennessee the home of The Jack Daniel Distillery. We focus on public service, non-partisan, rural journalism. We cover the Metro Moore County government, local tourism, Moore County schools, high school sports, Motlow State Community College, as well as whiskey industry news and regional and state stories that affect our readers.}