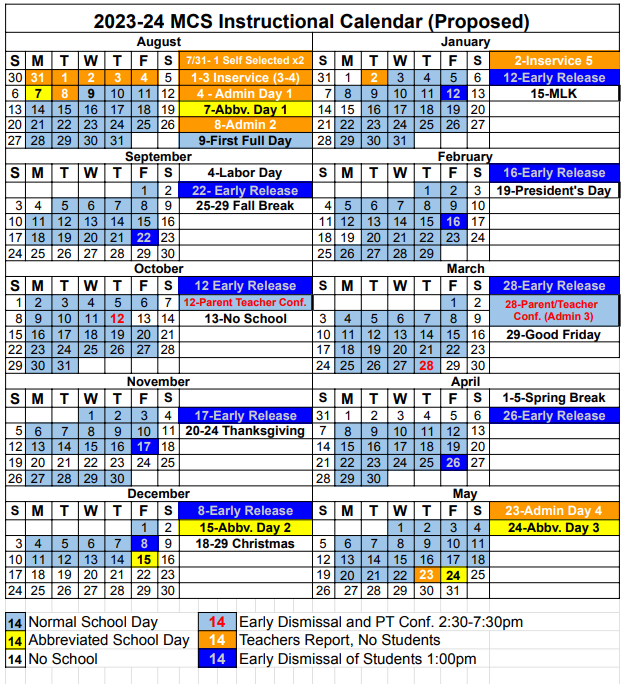 LYNCHBURG, Tenn. — The new school calendar will be a lot like the current school calendar. On Monday, the Metro School Board approved the 2023-24 Moore County Schools Instructional Calendar by a unanimous vote.
"I sent out several surveys both inside the school system and outside the system to parents and the only real feedback I received was that folks preferred that Fall Break happen halfway in between the first day of school and Thanksgiving as opposed to the first day of school and Christmas," Director Moorehead stated.
The approved calendar shows August 9 as the first full day of classes with Fall Break happening September 25-29. Students will get November 20-24 off for Thanksgiving. Christmas break would happen December 18-29 and Spring Break will happen April 1-5.
As usual, student will also get Labor Day, the Friday before the Jack Daniel's Barbecue, Martin Luther King Day, President's Day, and Good Friday off. Early dismissal will take place on September 22, October 12, November 17, December 6, January 12, February 16, March 28, and April 26. Parent Teacher conferences are planned for October 12 and March 28.
For more information, please go to www.moorecountyschools.net. The next Metro School Board meeting will take place on Monday, November 14 at 6 p.m. •
{The Lynchburg Times is an independently-owned, community newspaper located in Lynchburg, Tennessee the home of The Jack Daniel Distillery. We focus on public service, non-partisan, rural journalism. We cover the Metro Moore County government, local tourism, Moore County schools, high school sports, Motlow State Community College, as well as whiskey industry news and regional and state stories that affect our readers.}