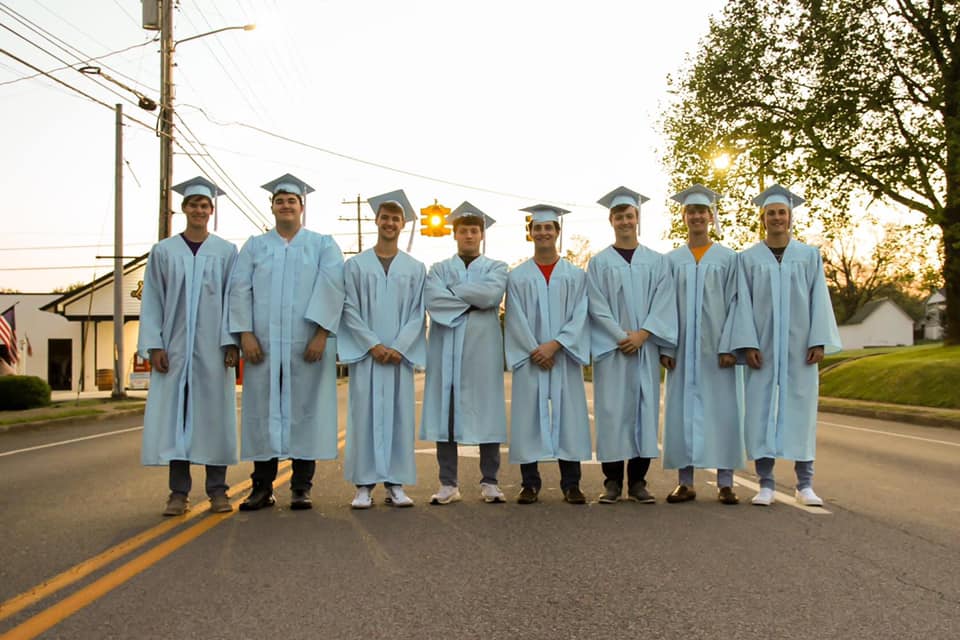 Later this afternoon, Doug Price Field will be filled with anxious and excited graduates. And boy oh boy, is this an accomplished group.
From Mr. Football finalist to Mr. Baseball finalist to the Class A Wrestling Runner Up to a soon-to-be Harvard freshman, the class of 2021 gives new meaning to the word "superlative."
Their outstanding achievements won't stop once their diplomas are in hand. Immediately following graduation, those on the MCHS baseball team will head over to Jim Burton Field to take on Gordonsville in Moore County's first Substate baseball game since 2005.
However, their accomplishments aren't limited to athletics. As a group, the Class of 2021 earned over $3 million in scholarship awards. Here's a list of each senior's individual awards:
Savanna Adams: Hope/Lottery Scholarship*,TN Tech High Flyers Scholarship and the Vice President's Residential Life Grant UAH Academic Excellence Scholarship Un. of Chattanooga Chancellor's Scholarship, Moore County Band Booster Scholarship, TN Promise Scholarship**
Sierra Barnes: MTSU True Blue Scholarship, Hope/Lottery Scholarship* , TN Promise Scholarship**
Lucas Beaver: Hope/Lottery Scholarship*, Enlisted with the United States Marines, TN Promise Scholarship**
Emily Black: Hope/Lottery Scholarship*, TN Promise Scholarship**
Noah Blankenship: Hope/Lottery Scholarship*, TN Promise Scholarship**
Elizabeth Bowers: Hope/Lottery Scholarship*, TN Promise Scholarship**
Chase Bradford: Hope/Lottery Scholarship*, Enlisted with the United States Army
Jorden Brown: Hope/Lottery Scholarship*, TN Promise Scholarship**
Caroline Buchanan: Hope/Lottery Scholarship*, TN Tech High Flyers Scholarship, Motlow College Presidential Scholarship, UAH Academic Excellence Scholarship, UT Chattanooga Chancellor's Scholarship, MTSU Trustee Scholarship, ETSU Presidential Scholarship, Blue Helmet Club, TN Promise Scholarship**,Robbie McKenzie Memorial Scholarship, Miss Mary Bobo's/ Charles D Manley Scholarship
Haley Bunn: Blue Helmet Club, Hope/Lottery Scholarship*, Bryan College Cheer Scholarship, Bryan College Dean's Merit Scholarship, Bryan College Distinguished Service Award, TN Promise Scholarship**, American Red Cross Scholarship,
Gage Burt: Hope/Lottery Scholarship*, TN Promise Scholarship**, Freed Hardeman University Baseball Merit Scholarship, Diamond Club Scholarship
Colby Burton: Nissan Industrial Maintenance Scholarship, TN Promise Scholarship**
Wyatt Burtts: Hope/Lottery Scholarship*,Lindsey Wilson College Trustee Scholarship, Lindsey Wilson College Archery Scholarship, Union University Archery Scholarship University of Pikeville Archery Scholarship, Bethel University Archery Scholarship, Kentucky Christian University Archery Scholarship, Wabash Valley College Archery Scholarship, Midway University Archery Scholarship, Southern Illinois College Archery Scholarship, Georgetown College Archery Scholarship, University of the Cumberlands Archery Scholarship, TN Promise Scholarship**, The Gene Haas Foundation Scholarship
Zach Carawan: Blue Helmet Club, Hope/Lottery Scholarship*, TN Promise Scholarship**, Robbie McKenzie Memorial Scholarship
Madison Carter: Hope/Lottery Scholarship*, TN Promise Scholarship**, Miss Mary Bobo's/ Charles D Manley Scholarship
Brayden Cashion: UT Martin Chancellor's Scholarship Austin Peay Dean's Scholarship, Freed-Hardeman Merit Scholarship, UAH Academic Merit Scholarship, East TN State University Academic Performance Provost Scholarship, Sewanee's Ecce Quam Bonum Award, Maryville College Deans Scholarship, Huntingdon College James W. Wilson, Jr. Scholarship TN Tech Academic Scholarship, Rhodes College Academic Scholarship, Blue Helmet Club, Hope/Lottery Scholarship*, Motlow College Arthur L. Walker Jr. Scholarship, Helen Dye Memorial Scholarship, TN Promise Scholarship**, Miss Mary Bobo's/ Charles D Manley Scholarship
Andrew Copeland: University of Knoxville Volunteer Scholarship,TN Tech High Flyers Scholarship, TN Tech Vice President's Residential Life Grant Hope/Lottery Scholarship* , Motlow College Presidential Scholarship, UAH Academic Merit Scholarship, Helen Dye Memorial Scholarship, TN Promise Scholarship**, Robbie McKenzie Memorial Scholarship,The Gene Haas Foundation Scholarship
Regan Corder: UTC Provost's Scholarship, Blue Helmet Club, Hope/Lottery Scholarship* , Motlow College Embark Scholarship, UAH Academic Recognition Scholarship, TN Promise Scholarship**, MTSU True Blue Scholarship
Riley Corder: UTC Provost's Scholarship, Hope/Lottery Scholarship*, TN Promise Scholarship**, MTSU Presidential Scholarship
Sierra Dinner: Hope/Lottery Scholarship*, TN Promise Scholarship**
Nayana Dunsmoor: Hope/Lottery Scholarship*
Bryley Eslick: Hope/Lottery Scholarship*, TN Promise Scholarship**
Jason Fanning: MTSU True Blue Scholarship, Motlow College Academic Service Scholarship, Hope/Lottery Scholarship*, TN Promise Scholarship**, Miss Mary Bobo's/ Charles D Manley Scholarship
Kerrigan Fanning: UT Knoxville Beacon Scholarship, UT Martin Achieve Scholarship, Livestock Association Scholarship, TN Promise Scholarship**
Candice Garrard: TN Promise Scholarship**
Kayla Gleghorn: Hope/Lottery Scholarship*, TN Promise Scholarship**
Thomas Goodwin: Farm Bureau, Hope/Lottery Scholarship*, TN Promise Scholarship**, Robbie McKenzie Memorial Scholarship
Madalyn Gravitt: Hope/Lottery Scholarship*, TN Promise Scholarship**, Bryan College Cheerleading Scholarship and Distinquished Service Award
Ansley Grayson: University of Knoxville Beacon Scholarship, Hope/Lottery Scholarship*, UAH Academic Recognition Scholarship, TN Promise Scholarship**, Hawai'i Pacific University Provost Scholarship, Robbie McKenzie Memorial Scholarship
Diamond Groves: TN Promise Scholarship**
Caroline Hammond: Blue Helmet Club, Hope/Lottery Scholarship*, The Mac Palmer Memorial Scholarship, TN Promise Scholarship**, Robbie McKenzie Memorial Scholarship, Miss Mary Bobo's/ Charles D Manley Scholarship
Taylor Harper: Blue Helmet Club, UAH Academic Excellence Scholarship, UTC Chancellor's Scholarship, MTSU Trustee Scholarship, TN Tech HIgh Flyers Scholarship and Residential Life Grant, ETSU Presidential Scholarship, Hope/Lottery Scholarship*, Motlow College A. Frank Glass Scholarship,TN Promise Scholarship** , Robbie McKenzie Memorial Scholarship, Miss Mary Bobo's/ Charles D Manley Scholarship
Kaylee Hart: Hope/Lottery Scholarship*, TN Promise Scholarship**
Logan Hice: Hope/Lottery Scholarship*, TN Promise Scholarship**
Riley Holman: Hope/Lottery Scholarship*, TN Promise Scholarship**, Miss Mary Bobo's/ Charles D Manley Scholarship
Ethan Huskey: TN Promise Scholarship**
Austin Kirby: TN Promise Scholarship**
Danielle Langford: Hope/Lottery Scholarship*, TN Promise Scholarship**
Trent Laverghetta: TN Promise Scholarship**
Kristen Lindsey: Hope/Lottery Scholarship*, TN Tech Golden Opportunity Grant, TN Promise Scholarship**
Chloe Locke: Hope/Lottery Scholarship*,
Hannah Long: Hope/Lottery Scholarship*, TN Promise Scholarship**
Jordan Lund: Hope/Lottery Scholarship*, Horseman's Association Scholarship, TN Promise Scholarship**, Miss Mary Bobo's/ Charles D Manley Scholarship
Hannah Maddox: Hope/Lottery Scholarship*, TN Promise Scholarship**
Lauren Malone: Hope/Lottery Scholarship*, TN Promise Scholarship**
Kobe Marlow: TN Promise Scholarship**
Edward Marshall: Hope/Lottery Scholarship*, Motlow College Academic Service Scholarship, Lynchburg Chamber of Commerce, TN Promise Scholarship**
Chris Martin: Hope/Lottery Scholarship*, Freed-Hardeman Baseball Scholarship
Lela McNatt: Hope/Lottery Scholarship*, Farris Creek Lodge #509 Scholarship, 2021 TCAT Shelbyville Graduating Home/High School Senior Book Scholarship, Janice Golden Memorial Scholarship, TN Promise Scholarship**, Robbie McKenzie Memorial Scholarship
Audrey Moorehead: Freed-Hardeman Trustee Scholarship & Freed-Hardeman University's Honor's Competition Scholarship, University of Alabama Presidential Scholarship, Alumni Scholar Award, Provost Academic Excellence, & the Presidential National Housing Scholarship, University of Mississippi Academic Merit Scholarship & The Valedictorian Scholarship, Student Council President, Rhodes Presidential Scholarship, Auburn University Academic Presidential Scholarship, University of Knoxville Volunteer Scholarship, Clemson Lyceum Scholars Program Scholarship and the Clemson Academic Scholarship, American University Presidential Scholarship, Hope/Lottery Scholarship*, Southern TN Ladies Society Scholarship, 2021 National Honor Society (NHS) Scholarship, Harvard Faculty Scholarship, DREMC Washington Youth Tour Essay Contest Scholarship, TN Promise Scholarship**, Robbie McKenzie Memorial Scholarship
Ryder Morey: Hope/Lottery Scholarship*, TN Promise Scholarship**
Kevin Myers: Hope/Lottery Scholarship*, TN Promise Scholarship**
Kyler Parker: Rhodes Hon Academic Scholarship, Blue Helmet Club, Hope/Lottery Scholarship *, TN Tech High Flyers Scholarship and the Vice President's Residential Life Grant, Austin Peay Presidential Scholarship, UAH Academic Merit Scholarship, Huntingdon College James W. Wilson Scholarship,TN Promise Scholarship** , Diamond Club Scholarship, American Legion Post 192, Lynchburg Youth Baseball Scholarship
Donavin Pearson: MTSU True Blue Scholarship, Blue Helmet Club, Hope/Lottery Scholarship*, UAH Academic Recognition Scholarship, UT Martin Excellence Scholarship, TN Promise Scholarship**, Miss Mary Bobo's/ Charles D Manley Scholarship, Lynchburg Youth Baseball Scholarship
William Reilly: Hope/Lottery Scholarship*, Motlow College Embark Scholarship, TN Promise Scholarship**
Noah Rogers: Hope/Lottery Scholarship *, UAH Academic Recognition Scholarship, UTC Moc's Scholarship, Moore County Band Booster Scholarship, TN Promise Scholarship**
Zachary Rogers: Hope/Lottery Scholarship*, TN Promise Scholarship**, Miss Mary Bobo's/ Charles D Manley Scholarship
Dylan Scruggs: Blue Helmet Club, TN Tech High Flyers Scholarship and the Vice President's Residential Life Grant, UAH Academic Scholarship, UT Martin Chancellor Scholarship, Sewanee Ecce Quam Bonum Award, Hope/Lottery Scholarship*, Veterans Memorial Scholarship, Helen Dye Memorial Scholarship, The Connect Scholarship,TN Promise Scholarship** , 2021 Nissan Scholars Leadership Scholarship, Robbie McKenzie Memorial Scholarship, The Gene Haas Foundation Scholarship
Haley Searcy: Hope/Lottery Scholarship*, TN Promise Scholarship**, Lynchburg Nursing Center Seniors Helping Seniors Scholarship
Hunter Searcy: TN Promise Scholarship**
Robin Smedley: Hope/Lottery Scholarship*, TN Promise Scholarship**
Tyler Smith: Rhodes Academic Award, Blue Helmet Club, Hope/Lottery Scholarship*, Austin Peay Dean's Scholarship, Maryville College Scots Scholarship, TN Promise Scholarship**
Deliah Stewart: Hope/Lottery Scholarship *, Motlow College Academic Service Scholarship, TN Promise Scholarship**, Robbie McKenzie Memorial Scholarship, Miss Mary Bobo's/ Charles D Manley Scholarship
Kailey Taylor: Hope/Lottery Scholarship *, Lynchburg Chamber of Commerce, TN Promise Scholarship**
Dustin Thomas: Hope/Lottery Scholarship*, TN Promise Scholarship**, Diamond Club Scholarship, Bryan College Dean's Scholarship
Tristen Throneberry: Hope/Lottery Scholarship*, TN Promise Scholarship**
Noah Whitaker: Hope/Lottery Scholarship *, Nissan Industrial Maintenance Scholarship, TN Promise Scholarship**
Kaden White: Hope/Lottery Scholarship*, TN Promise Scholarship**, Miss Mary Bobo's/ Charles D Manley Scholarship
Caitlyn Wolaver: Hope/Lottery Scholarship *, Motlow College Academic Service Scholarship, Middle TN Association of Realtors Scholarship, TN Promise Scholarship**, MTSU Presidential Scholarship, Robbie McKenzie Memorial Scholarship, Miss Mary Bobo's/ Charles D Manley Scholarship