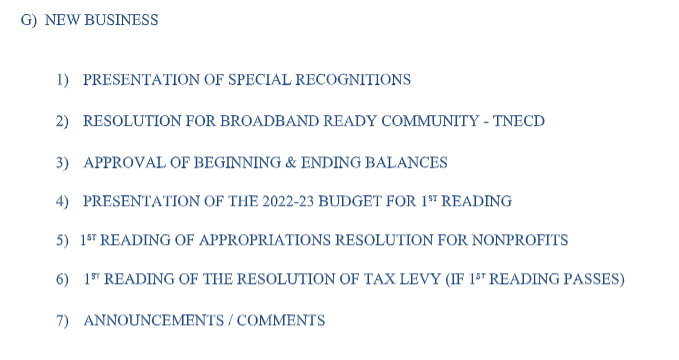 LYNCHBURG, Tenn. — It's a process that officially kicked off weeks ago. Over the last month, members of the Metro Budget Committee, Metro Mayor Bonnie Lewis, and department heads spent nearly 20 hours in meetings working together to balance the list of our communities needs against it's revenue. Budget Committee Chair Amy Cashion along with members Gordon Millsaps, John Taylor, Gerald Burnett, and Bradley Dye spent countless hours going over each line item, seeking explanations, and then making adjustment and now it's time to present their work to the full council during the regular May meeting happening on Monday, May 16. Due to the likely increased interest, that meeting will be held at the Moore County High School Theatre.
Increases in fuel, utilities, state mandated salary increases, and still unknown increases in county employee benefits were the main topic of the multiple, four hour Budget Committee meetings that took place prior to May 16. Budget Committee members also consider a pay scale proposal from Metro Sheriff Tyler Hatfield.
Besides the Budget Committee members, only two other Metro Council members attended any Budget Committee session. Metro Council member and Admin Captain Shane Taylor attended all four meetings as a representative for the Metro Sheriff's Department. Metro Council member and mayoral candidate Keith Moses briefly attended the May 2 meeting. One other mayoral candidate, Leanne Durm, also attended two of the four meeting.
On Monday, Mayor Lewis will ask that the full Metro Council approve the first reading of the 2022-233 Metro Budget. The budget requires three readings in three separate meetings. The state requires all Tennessee counties to have an approved budget in place by no later that June 30.
Other items on the agenda
Other new items on the agenda include a resolution to declare Moore County a Broadband Ready Community. This state recognition will allow Internet Providers like Monster Broadband to compete for federal and state broadband infrastructure money.
In old business, the Council will consider the second reading of a rezoning request for 65 Farm Bureau Street. The property is currently owned by Sullenger Property, LLC. It's the location of the former Jack'd Nutrition and the owners would like to have it rezoned from C-1 commercial to R-1 residential in order to turn it into rental property. There will be a Public Hearing about the rezoning so that the Council can consider public comments for or against he rezoning from the general public prior to the second reading. That public hearing will take place at 6:20 p.m.
The Budget Committee will also meet at 5:30 p.m. at MCHS to make any final changes before presenting their work to the full Council. The regular session Metro Council meeting will follow at 6:30 p.m.•
{The Lynchburg Times is the only locally-owned newspaper in Lynchburg and also the only woman-owned newspaper in Tennessee. We cover Metro Moore County government, Jack Daniel's Distillery, Nearest Green Distillery, Tims Ford State Park, Motlow State Community College, Moore County High School, Moore County Middle School, Lynchburg Elementary, Raider Sports, plus regional and state news.}