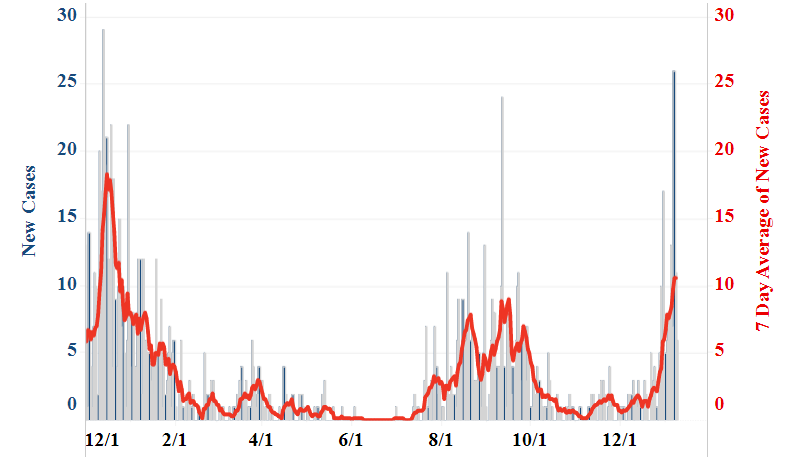 LOCAL NEWS — Some time after January 1, the Tennessee Department of Health switched from daily reporting of COVID-19 numbers to weekly reporting and the newest weekly numbers for Moore County show a sharp uptick in the number of new cases. For the seven day period from January 2-8, Moore County gained 98 new COVID-19 cases. To view the complete county data provided by the state, click here.
During Monday night's Metro School Board meeting, Director of Schools Chad Moorehead announced that there were 32 new cases in the Moore County School System. That number included all cases from students, teachers, faculty, and staff as of the end of the school day on Monday.
Prior to the January 2 there were 1527 total cases to date in Moore County and as of January 8, there have now been 1625 total cases including 32 deaths including two in the past two weeks. According to the latest numbers, there are now 117 active cases in Moore County. There are also 1,476 inactive and/or recovered cases.
It's important to note that new cases are likely being under-reported because some who are sick don't get tested or test at home. Home test numbers do not make it into the state case count.
One local healthcare provider we spoke to said that Omicron Variant cases seem to be hitting local primary care providers harder that local hospitals because Omicrom symptoms are less severe than Delta or the original Sars-CoV-2. Many describe the illness associated with the latest COVID-19 iteration as feeling like a common cold or the flu with a runny nose, congestion, cough, fever, and muscle aches. Many vaccinated individuals may experience asymptomatic cases but can still unknowingly spread the virus.
Should case spikes lead to a rapid increase in hospitalizations, there are currently seven percent (789 total beds) availability of floor beds, and six percent (133 total beds) availability of ICU beds in the entire state according to the January 11 Hospital Capacity numbers provided by the state.
Moore County continues to have the lowest vaccination rate in the state with just 24 percent of locals receiving the shot. Over a two-and-a-half week period from mid-December to early January, about 70 percent of new infections, 78 percent of hospitalizations and 83 percent of deaths in Tennessee occurred among the unvaccinated, according to the Department of Health. According to a state report on breakthrough cases, 70 percent of all infections, 86 percent of all hospitalizations, and 83 percent of all deaths reported last week were among the unvaccinated.
State officials also encourage residents to stay home if they feel sick or test positive for COVID-19. Individuals who have been exposed to someone who tested positive for COVID-19 should get tested and stay home until they receive a negative test.
You can get a COVID-19 vaccination and/or a COVID-19 PCR test at the Moore County Health Department located on Majors Boulevard in Lynchburg. They are open Monday through Friday from 8 a.m. to 4:30 p.m. They close daily from 12-1 p.m. for lunch. You can reach them at 931-759-4251. You can also find vaccination appointment at other local providers at vaccine.gov.•
{The Lynchburg Times is the only locally-owned newspaper in Lynchburg and also the only woman-owned newspaper in Tennessee. We cover Metro Moore County government, Jack Daniel's Distillery, Nearest Green Distillery, Tims Ford State Park, Motlow State Community College, Moore County High School, Moore County Middle School, Lynchburg Elementary, Raider Sports, plus regional and state news.}