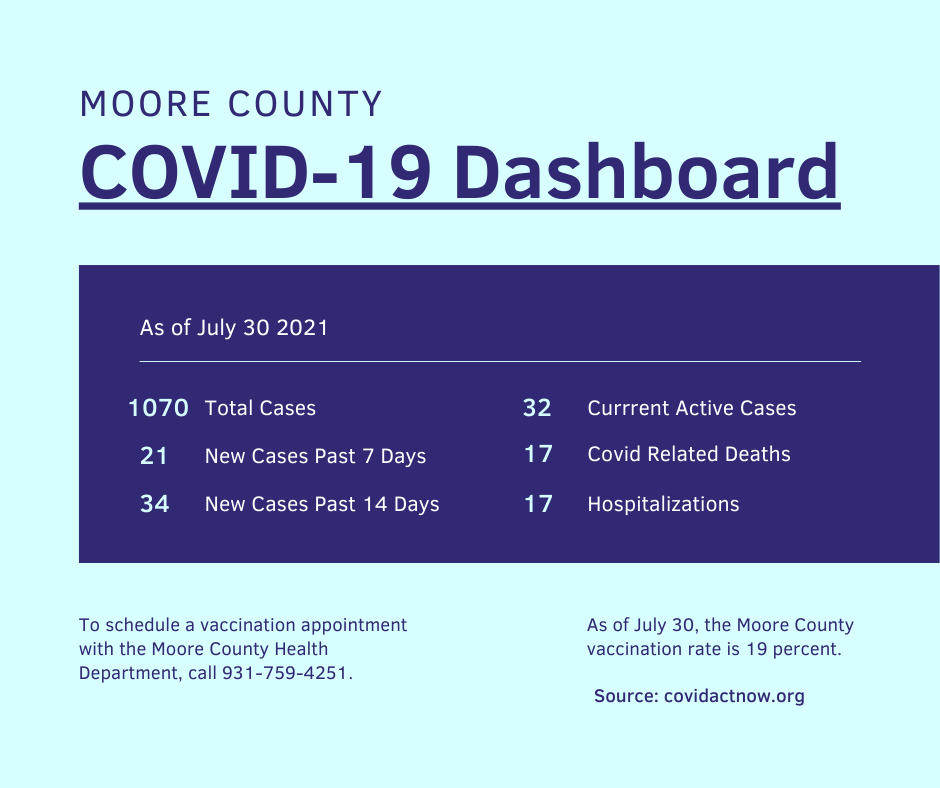 LOCAL NEWS — According to the latest numbers available from the Tennessee Department of Health, Moore County gained 21 new, active COVID cases in the seven day period from Friday, July 23 through Friday, July 30. According to COVID Act Now, we rank 93 out of 95 counties in daily new cases. It's always important to remember that illness that began in the last 10 days may not yet be reported.
Despite the new cases, the number of both hospitalizations and deaths remain unchanged. Since the beginning of the pandemic, 17 Moore County citizens died and 17 were hospitalized, as of the July 30 numbers.
State wide, 69 percent of Tennessee's ICU beds are currently occupied — 1,449 are filled with non-COVID patients and 203 are filled by COVID patients. That means that as of this week, our state should be able to absorb a wave of new COVID infections.
Over the last week, Tennessee average 9 daily deaths.
Moore County vaccination rate up slightly
The good news is that we are seeing a slight uptick in the number of vaccinations. Prior the this second Delta Variant wave, Moore County reported just an 18.2 percent vaccination rate — the lowest in the state. According to COVID Act Now, Moore County now reports a 19 percent vaccination rate.
In general, Tennessee averaged 1,663 new confirmed COVID cases per day over the past seven days. According to COVID Act Now, each local person who contracts the virus will spread it to 1.46 other people. Moore County currently reports a slightly higher than average infection rate at 1.48. We are also the highest regional infection rate along with Lincoln County. Surrounding county infection rates are as follows: Moore 1.48, Lincoln 1.48, Bedford 1.4, Coffee 1.3, and Franklin 1.19. The highest infection rate in the state over the past seven days is Henderson County at 1.6.
The newest rise in case number is still well below the increases Tennessee experienced this past winter. On December 19, the state experienced 8,893 new cases over a seven day period.
CDC changes mask recommendations
Based on the higher infection rates being seen across the U.S. coupled with higher than expected breakthrough cases of vaccinated people, the CDC updated its mask guidance on Tuesday. They now recommend that fully vaccinated individuals wear a mask indoors if you live in an area with a high transmission rate. At 1.48, Moore County's transmission rate is considered high. The CDC also recommends that unvaccinated folks should always mask up indoors.
Vaccinations are free and available in all 95 counties in Tennessee. There are no out of pocket costs to citizens. Despite the damaged caused at the Health Department Building on Thursday in Moore County, they still offer vaccination appointment each week day. For more information, call them at 931.759.4251. •
{Editor's Note: The majority of the numbers and statistics used in this article were provided from the TN State Health Department and the COVID Act Now website. }
{The Lynchburg Times is the only independently owned and operated newspaper in Lynchburg. We cover Metro Moore County government, Jack Daniel's Distillery, Nearest Green Distillery, Tims Ford State Park, Motlow State Community College, Moore County High School, Moore County Middle School, Lynchburg Elementary, Raider Sports, plus regional and state news.}