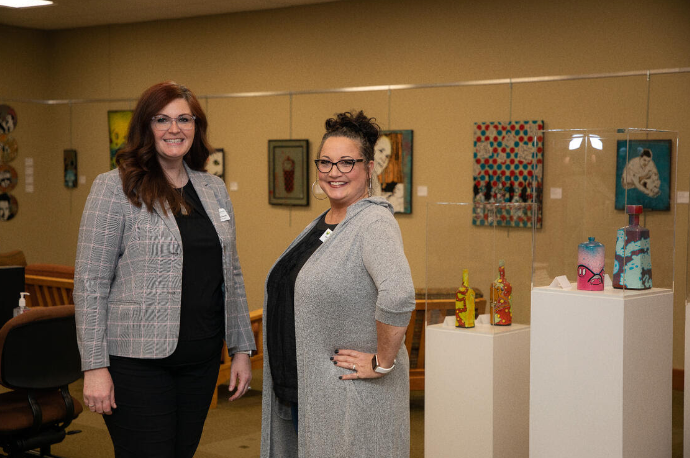 LYNCHBURG, Tenn. — The Motlow State Community College Library was recently awarded a $5,000 Targeted Arts Development Initiative (TADI) Grant funded by the Tennessee Arts Commission. This is the second year in a row that Motlow has received the grant.
"The first year, we used all the funds for collection items featuring the Arts. This year, we used the funds for the art gallery hardware and sculpture stands," said Motlow's Director of Libraries, Sharon Kay Edwards. "We used the grant funding to purchase art installation items to host visiting artist galleries and events for the community's benefit at the Clayton-Glass Library in Moore County."
The first artist featured is Ryan Frizzell, a mixed media artist specializing in spray paint and repurposed arts, including street art, slap art, wheat paste, screen printing, and murals. Students, faculty, staff, and community members can stop by the gallery featured in the Clayton-Glass Library now through December 10. Library hours are located at library.motlow.edu.
Motlow Art Faculty plan to partner with more Tennessee artists, student artists, and visiting artists from out of state for displays in the library. Artists also have the opportunity to lecture about their work virtually or in person.
"We believe this will be of great cultural benefit to Moore County and to the Motlow community," said Edwards.
According to the Tennessee Arts Commission website, the TADI Grant supports art projects in underserved, rural communities with a special focus on distressed counties and at-risk communities. The grant is designed to build capacity and develop leadership potential.
Motlow libraries serve faculty, staff, students, and the community at large—providing internet access, inter-library loan service, printing, faxing, copying, and of course, the ability to check out materials to residents in Motlow's 11-county service area. For more information, visit library.motlow.edu. •
{The Lynchburg Times is an independently-owned, community newspaper located in Lynchburg, Tennessee the home of The Jack Daniel Distillery. We focus on public service, non-partisan, rural journalism. We cover the Metro Moore County government, local tourism, Moore County schools, high school sports, Motlow State Community College, as well as whiskey industry news and regional and state stories that affect our readers.}