WAYNESBORO, Tenn. — The factors are different in the beginning of a high school basketball schedule versus post-season play. When teams across Tennessee started their seasons back in November 2021, many – including the Moore County Raiderettes – were adjusting to a new coach, a new coaching style, and new plays. But as playoffs approach, the key factors transform. Suddenly, the pieces click into place and the deciding factors lean more towards motivation and player chemistry.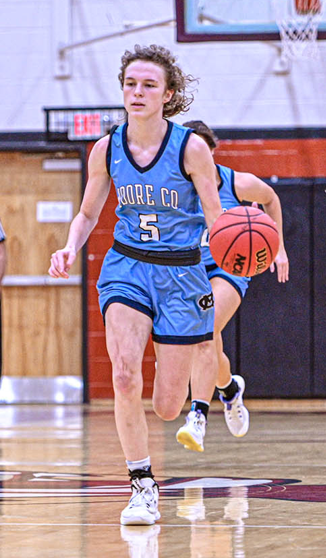 For the Raiderettes, that chemistry felt on point on Monday. Led by two determined seniors, Olivia Richards and Charlotte Ray, Moore County battled back from a nine-point deficit against Collinwood to send the game into overtime. In OT, a Collinwood player made a decision with a huge ripple effect. On a Lady Trojan possession, freshman post Ellie Graham anticipated a Lady Trojan pass and stole the ball. As she took off on a fast break, a pursuing Lady Trojan player lunged and basically tackled her from behind. Graham fell to ground in pain and the refs stopped play. It was an intentional foul and the referees called it as such.
Moore County persisted – putting together a gritty, determined overtime period against Collinwood to earn a 62-53 victory but the injury had a trickle-down affect in the Wayne County game.
On Wednesday, Graham watched as her teammates played the Lady Wildcats in the Regional Final game. Sure, Coach Spencer has always had more of seven key players versus starting five mentality. And, of course, there are other players just as capable who can and did step up. For example, senior Olivia Richards single-handedly scored over half of the Raiderettes 51 points on Wednesday. But Graham's team missed her and it showed.
Raiderettes battle back in the second period
The Raiderettes seemed a little befuddled and timid in the first half before regaining their composure. They allowed Wayne County to score nine unanswered before Olivia Richards hit a mid-range jumper to get Moore County on the board, 9-2, around the five minute mark. The Wildcats answered with a three and then Richards answered with her own three to make it 12-7. The Raiderettes held on the next Lady Wildcat possession and then Katy Fletcher swished another three to make it 14-10. Moore County then forced two Lady Wildcats turnovers before Richards added two more. At the end of the first period, Moore County trailed 16-12. Richards scored nine of Moore County's first period points.
There were three lead changes and two ties in the second period. Around the six-minute mark, Erica Clifton hit a trey to give Moore County their first lead of the ballgame, 17-16. Wayne County answered underneath to earn back the one-point lead. Moore County walked on their next possession and then Wayne County made another basket to build their lead to three, 20-17. On the next Raiderettes possession, Maecy Fletcher battled inside for two to cut the lead to one. The Raiderettes then fouled a Lady Wildcat on the other end of the floor. She hit one of two to make it Wayne County 21, Moore County 19. Then, Olivia Richards hit another jumper to tie the game, 21-21.
Katy Fletcher added a trey two possessions later to build the lead to three. On the next series, a Raiderette foul sent a Lady Wildcat to the line. She made both to pull back within one, 24-23. A determined Charlotte Ray battled inside for a basket to make it 26-23 and then the Wildcats answered with a trey to tie the game again, 26-26. With less than a minute to play in the half, Wayne County went back to the line for a one-and-one. The Lady Wildcat shooter hit her first shot but not her second to send Wayne County into the halftime locker room with a one-point lead, 27-26.
Foul in final seconds makes it a two-possession game
Moore County struggled offensively in the third period – putting up six to Wayne County's 15 – allowing the Lady Wildcats to build a 10-point lead. Olivia Richards scored four of the Raiderettes' six third quarter points. Charlotte Ray and Chloe Brazier also added baskets from the foul line.
That's when Olivia Richards seemed to decide to take the game into her own hands. Moore County got on the boards first with a Richards jumper underneath. Wayne County answered and then a determined Richards went in for another basket to cut the lead to six, 44-38. Maecy Fletcher took a charge on the next Lady Wildcat possession forcing a turnover and then Moore County missed their next shot. On the Lady Wildcat end, Wayne County made two to build their lead back to eight, 46-38. Fletcher then stepped up again on the next play for points inside to cut the lead back to six.
Around the three-minute mark, Raiderettes Head Coach Chad Spencer switched to a man defense and the pressure seemed to have an effect. Wayne County scored a basket to build their lead back to 10 before Richards managed back-to-back treys to cut the Wayne County lead back to four. The two teams swapped basket for the next two possession with Chloe Brazier putting up point for Moore County. With 46 second left to play, Wayne County clung to a 52-48 lead.
Olivia Richards came out of a time out with a quick fade away three to cut the lead to two points, then a basket from the line pulled Wayne County back within three, 54-51. On the next Lady Wildcat inbound ball, Moore County got called for a foul and the Lady Wildcat made both – making it a two-possession ballgame with seven second left to play. The final score was Wayne County 56, Moore County 51.
Senior Olivia Richards led for Moore County with 30 points. Other contributing Raiderettes were Katy Fletcher (6), Chloe Brazier (5), Maecy Fletcher (4), Charlotte Ray (3), and Erica Clifton (3). Blair Baugus led for Wayne County with 14 points.
The loss sends Moore County (28-12) to McKenzie (27-2) on Saturday for a TSSAA Sectional game. Wayne County (32-4) will take on Houston County (22-11) in Waynesboro on Saturday. The winners of those two games will head to state.
McKenzie sits 150 miles northwest of Lynchburg between Clarksville and Jackson. The GPS address for those who plan to travel is 23292 Highway 22, McKenzie, TN 38201. Those who can't attend in person can follow the action on The Lynchburg Times Facebook page or on the Moore County Sports Network. •
{The Lynchburg Times is the only locally owned newspaper in Lynchburg and also the only woman-owned newspaper in Tennessee. We cover Metro Moore County government, Jack Daniel's Distillery, Nearest Green Distillery, Tims Ford State Park, Motlow State Community College, Moore County High School, Moore County Middle School, Lynchburg Elementary, Raider Sports, plus regional and state news.}