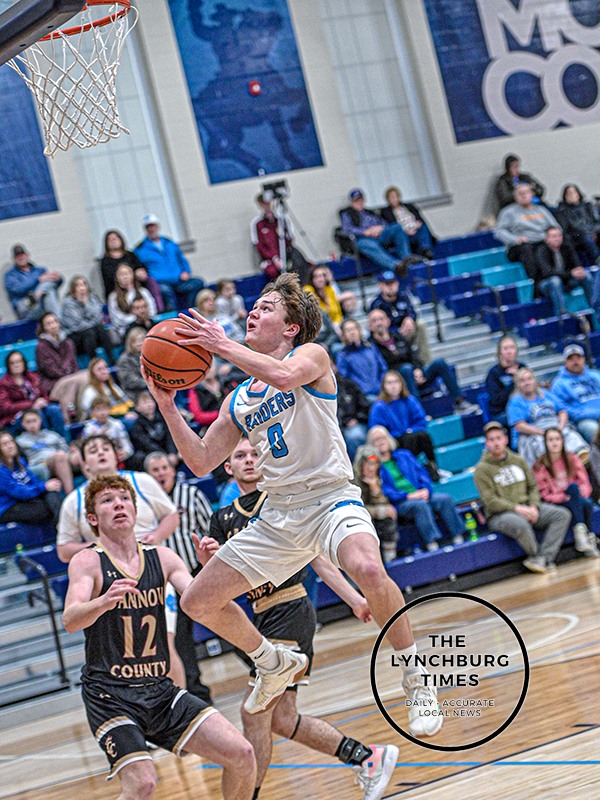 LOCAL SPORTS — Any person using the Moore County High School Raiders' 4-14 record to judge their chances in the district opener would be making a mistake.
Sure, the Raiders only recently broke a six game losing streak but they did so in resounding fashion. Last Tuesday, they pulled together a complete, team effort that put 92 points on Cannon County — a team that boasts the number six player in the state. Sure the 6-foot-5 Gus Davenport is Class A Mr. Basketball bound. In fact, he even broke a Cannon County scoring record against the Raiders with 52 points, but it didn't matter.
The Raiders defeated the Lions star player with teamwork and if they can bring that same energy into district play, their chances are good. It also helped that four Raiders scored in double digits. Alex Copeland led with 30 points followed by Keller Morey and Will Harder who each added 18 points. Colton Bateman scored another 14.
The Hornets (3-12) lost their first district game against Connersville on Saturday by a final score of 56-50. The Hornets trailed for much of the game and came up a couple of baskets short in the final stanza.
The Raiders, who were plagued by illness and injuries in the first half of the season, seem to be back at full strength. They are missing starter, Dawson White, who's out for the rest of the season with a shoulder injury. Back in after an extended illness is Colton Bateman. Bateman seemed to bring a spark and injection of energy into the Cannon County game.
The Raiders and Hornets will tip off in Franklin County following the girls action on Tuesday. If you plan to attend, the school's address is 400 Gore Street in Huntland. Those who can't attend in person can watch the Moore County Sport Network's student broadcasting team on the NFHS Network. The Lynchburg Times will also live blog the game on its Facebook Page. •
{The Lynchburg Times is the only locally-owned newspaper in Lynchburg and also the only woman-owned newspaper in Tennessee. We cover Metro Moore County government, Jack Daniel's Distillery, Nearest Green Distillery, Tims Ford State Park, Motlow State Community College, Moore County High School, Moore County Middle School, Lynchburg Elementary, Raider Sports, plus regional and state news.}