By Tabitha Evans Moore | Editor & Publisher
It's a rainy, blustery night and Jeff Reed stands on the sideline of the Moore County Raiders football game against Cornersville. He walks from end zone to end zone capturing the seniors final home game — something mothers across Moore County will get emotional about as they look at the photos online the next day.
He snaps shots of the cheerleaders, the referees, the students in spirit line, the fans in the stands, the band performance, the coaches, the players, and the managers. If it happened at that game, you can bet you'll see it in the album of 100 plus photos that he will load on his website the next day.
On Saturday, he'll be in historic Downtown Lynchburg to take photos at the Lynchburg Bicentennial. In September, he got up early to take photos at the Lynchburg Memorial 9/11 5K. In October, he spent hours on the Lynchburg Square capturing the spirit of a small town during Halloween in the Hollow.
If it happened in the town of Lynchburg, if the day meant something to its citizens, if our community gathered for any purpose, you can almost bet Jeff Reed was there. It's something for which everyone in Moore County is beyond thankful.
Putting the positive focus on student athletes
Jeff Reed has been taking photos in Moore County for nearly two decades. Not only is he a regular at every Raider event, but he also works the sideline at Motlow State sports events, and often travels to shoot Moore County student athletes who go on to play at area colleges.
Moore County High School senior Erica Clifton says that Reed has been a part of her school sports experience for as long as she can remember. Clifton attends MCHS as a three sport varsity athlete playing volleyball, basketball, and softball. She's also a member of the MCHS Student Council, National Honor Society, and Health Occupation Student Association.
"I first noticed him on the sidelines as an elementary school student when I'd attend high school basketball games with my parents," Clifton says. "The first sports picture he ever took of me was at a middle school softball game. I was a sixth grader on the team."
Clifton says as a younger athlete, having a professional photographer take a picture of you is a real confidence builder.
"It really makes you feel noticed and encourages you to try just a little bit harder."
She also says that to her friend group, having Reed take your photo at a game is as much a part of the game day experience as the spirit line or getting a hotdog at the concession stand.
"We always make sure to get him to snap one. He's super easy going and never minds," she says.
When we ask if Clifton has a favorite Jeff Reed shot of herself in action, she's quick to answer.
"Absolutely, it's me on the free throw line at a game against Tullahoma High School. It's a game we weren't supposed to win and in that photo I'm really zoned in. It's definitely a memory."
Over the years, Clifton's mom, Amanda Holt Stovall, has collected an entire scrapbook of Clifton's Moore County sports career moments made exclusively of Jeff Reed photographs.
His heart is" three sizes too large"
Reeds photographs and his website serve as a digital scrapbook of sorts for not only local student athletes but also individual programs. When the 2021 MCHS Raiders faced off with East Robertson in the Class A Championship game, Reed was there. When the Raider basketball team made it to substate last season, Reed was there. When the 2020 Raider football team made it to the quarterfinal playoff game against Fayetteville City, Reed was there.
According to MCHS Athletic Secretary Brenda Dye, Reed also shows up for beauty pageants, ag events, athletic signings, as well as honors and awards ceremonies. He also volunteers his time to put together collages that Moore County coaches give to senior players as gifts.
"All three of my kids played sports in high school. We didn't have a Jeff Reed back then. When I see his pictures and his love for what he does, I'm kinda jealous in the best possible way. He does get great photos of my grandkids on the sidelines," Dye jokes. "He always comes through for us, even at the last minute, and he never asks for money. His heart is three sizes too large."
Dye says that in the 2021-22 school year Reed started taking the official class photos for the middle school and high school including sports and senior portraits. MCHS Yearbook Sponsor Lisa Price Moorehead says Reed took over as the official "school photographer" this year.
"He and I sat down together at the end of school last year to discuss what all we would need him to do as the school photographer. What a lot of people don't realize is that the school does not hire a photographer. We simply promise the photographer that he/she will be able to shoot all of our events at school," explains Moorehead. "What I really want people to realize is the only way Mr. Reed gets paid for any of his time or work is if people order his pictures. He spends so much time taking pictures for all of the events, yet he doesn't get paid for any of that time, much less editing the pictures and keeping up a website where he posts the pictures."
Moorehead says that many times, if a parent or student asks Reed for a photo he simply gives it to them for no charge.
"He doesn't want accolades. He doesn't want tons of attention. He simply wants to do a good job, and an occasional thank you is appreciated," says Moorehead. "He gives so much of himself and his time simply because he wants kids and their parents to be able to have these special moments in time captured for them."
Seeing Moore County through his eyes
Unselfish, dependable, generous, big-hearted … these are all words students, teachers, and staff at MCHS have used to describe Jeff Reed. Metro Mayor Bonnie Lewis adds dedicated and creative.
"I am the president of the Jeff Reed Fan Club," she says. "If it happens in Moore County, he's there with his camera, giving his time and talents so our community can have memories."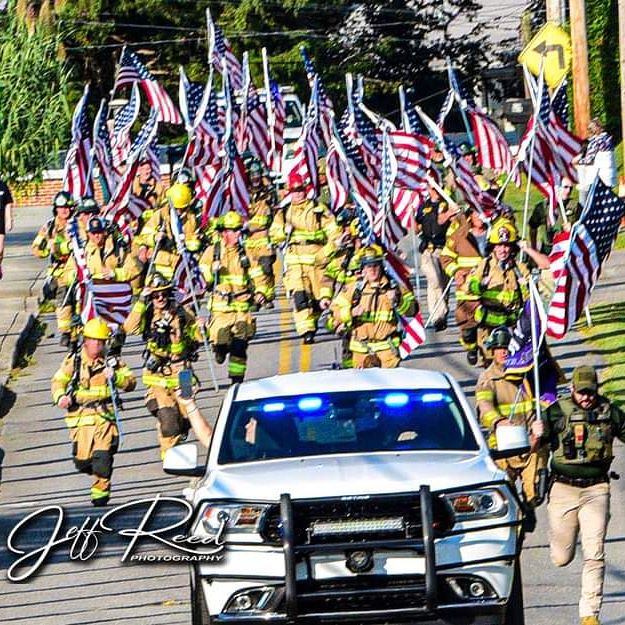 Mayor Lewis says her favorite recent Jeff Reed photo is the shot he took the day of the Lynchburg 9/11 Memorial 5K. In it, dozens of local firefighter in full turnout gear can be seen carrying American Flags down Majors Boulevard in Lynchburg. It's a sea of patriotism happening in the heart of the most famous small town in America – a shot that most amateur's would have missed.
"We wait for his photos of any event to make sure we see what just happened – through his eyes," says Mayor Lewis.
"We could never pay him what he's worth."
It isn't often that I insert myself into any article but for Jeff Reed, I'll make an exception. I've worked with him on the sidelines for nearly two decades first at The Moore County News and now as Editor & Publisher of The Lynchburg Times. Yes, he's dedicated, generous, and creative just like all three people I interviewed for the article have said but what many don't know is that he is also a lot of fun and possesses a wicked sense of humor. He's a Florida Gator fan who loves to rib me about Alabama football. He's saved me from a collision course with a running back going full speed more than once and he keeps me rolling on the sidelines with his game commentary. I too have offered to pay Reed for his work only to be rebuffed.
"Just get me a credential for something I want to shoot," he'll say.
One thing, I know for sure. Our stories would not be the same without his photos running alongside them. I can write that our recent 35-14 loss at Conersville was gritty but it is his photo of two Bulldog lineman barreling toward Raider quarterback Connor Partin that really tells the story. Good journalism does not happen without both good writing and good photography, and The Times is blessed and beyond grateful to have a photographer of Jeff Reed caliber available in our community.
Mayor Lewis put it best when she said, "I know we can't ever fully pay him what he's worth." •
{The Lynchburg Times is the only daily newspaper in Lynchburg. Covering Metro Moore County government, Jack Daniel's Distillery, Nearest Green Distillery, Tims Ford State Park, Motlow State Community College, Moore County High School, Moore County Middle School, Lynchburg Elementary, Raider Sports, plus regional and state news.}