By Tabitha Evans Moore | Editor & Publisher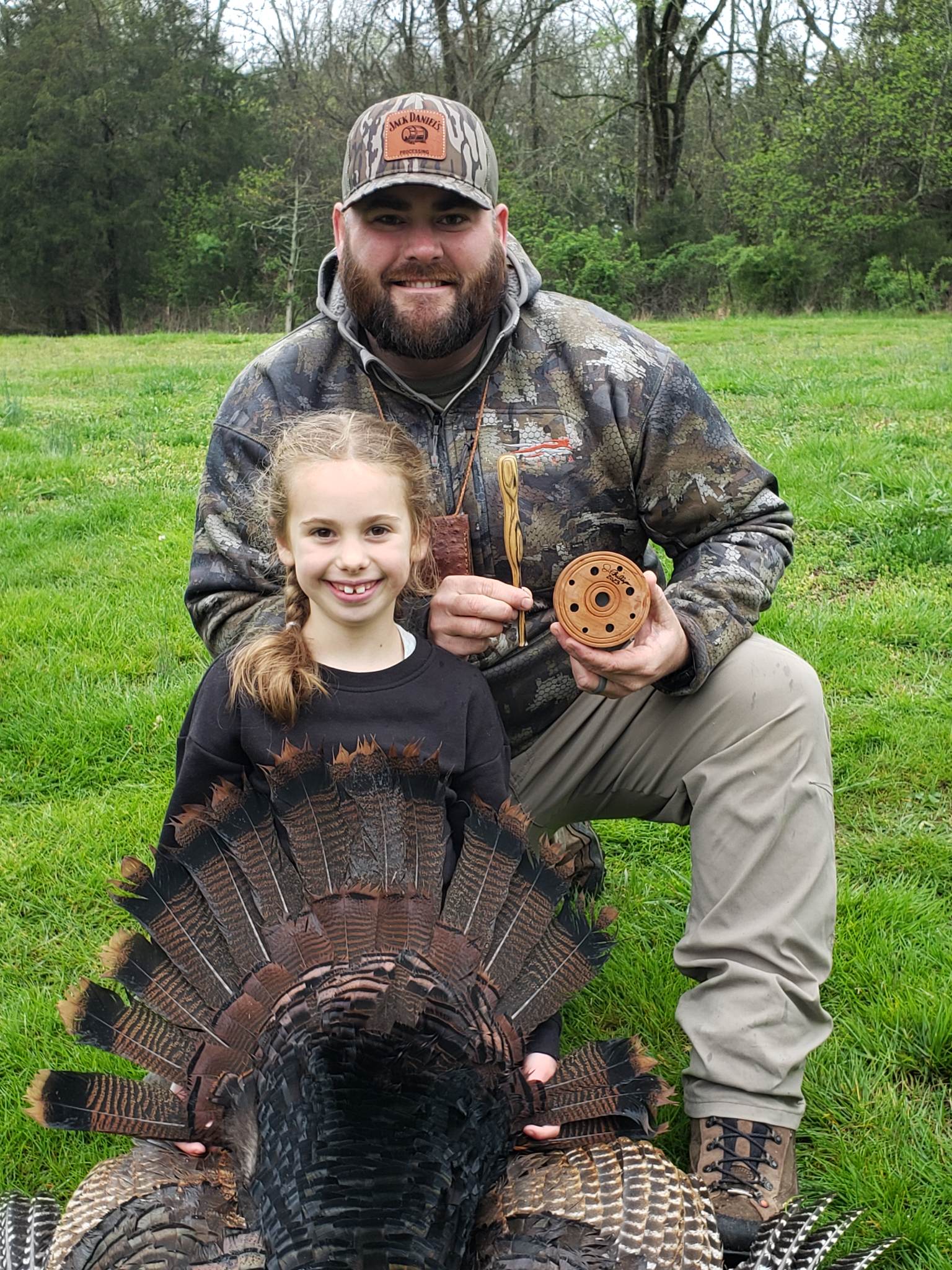 It's early Saturday morning on the opening day of Tennessee's Young Sportsman Spring Turkey Season and Josh Phillips is determined to make some memories for his best friend's daughter. As Phillips, Maggie Jo, and her dad, Eli, wait for the sun to rise on the Awalt family farm, the forest starts to come alive. First, the owls hoot and then the songbirds join in. Before long, wild turkeys begin to gobble in the distance, giving Phillips an opportunity to make a little magic for Maggie Jo.
As he rubs the striker against one of his handmade pot turkey calls, it creates clucks, purrs, and yelps that mimic the noises hens make. Soon a gobbler answers him, and Maggie Jo gets wide-eyed. Eventually a jake makes his way around the corner, and with the help of her dad, Maggie Jo takes aim.
"I saw her get her first turkey. For a hunter, that's just something special. I got my first turkey when I was 14 years old, and I remember everything about that day," Phillips says.
Phillips says he developed a love of hunting and the outdoors as a teenager. It started with fishing and progressed from there.
"Other boys my age would bring photos of their trophies to school, and everybody would gather around. I thought it was so cool."
Phillps says he liked deer hunting but fell in love with turkey hunting from the start because of the challenge and interaction with the birds. Phillips utilizes the run-and-gun style of turkey hunting, in which hunters actively move around a piece of property or hide in a blind and call at different intervals attempting to lure the birds within range. It's harder than it sounds. A 20 percent success rate during a turkey season is pretty good.
"These birds are so danged smart."
Not only are wild turkeys smart and naturally suspicious, but they also possess excellent vision. As prey, their eye sockets sit on either side of their skulls giving them nearly 360 degree vision. They also see in color, which is why turkey hunters aren't required to wear safety orange while hunting. Despite the fact that they don't possess external ears, they hear incredibly well. Wild turkeys are smart, adaptable, curious and communicate with each other. They also possess incredible memory in regards to geography and food sources. Turkeys sleep in trees just like chickens and will avoid coming off the roost if they sense danger. They tend to be the most vocal early in the morning and this is when Phillips and friends do their best hunting.
"These birds are so dang smart," Phillps says. "There's just no way to sneak up on a turkey. There's just not. They are way too smart for that."
Phillips says that other hunting tools like decoys often don't fool a turkey for long.
"You might fool a jake once with a decoy but not twice," he jokes. "He'll come by and notice the decoy hasn't moved in awhile and instantly suspect something isn't right or it will look a little too realistic and he'll try to fight it."
From hunting to collecting to creating
This brings us to Phillip's latest passion project – handmade turkey calls. He says it started with collecting vintage duck calls around 2014. He fell in love with Reelfoot-style calls like those made by Nashville-based outdoorsman Johnny Marsh. Marsh died in 1983 and a signed, original Marsh creation can sell for hundreds of dollars – if you can find one.
"You would not believe the number of friends I've made all over the United States from the duck call collecting community," Phillps says. "I keep in touch with them regularly. They'll come visit me here to go turkey hunting and I'll go to places like Arkansas to duck hunt. It's pretty amazing."
Over the course of nearly 10 years, Phillips amassed a collection of around 120 duck calls that now spread over his "man cave" in the Estill Springs home he shares with his wife, Jack Daniel's Assistant Distiller Lexie Amacher Phillips.
It's his love of collecting things and love of nature that naturally led him to want to create his own turkey calls.
Phillips says he turned his first duck call with the help of his friend, Ronnie Turner, in Memphis during a makeshift bachelor party prior to his and Lexie's 2020 marriage. He created his very first turkey call that following spring with his friend and fellow Jack employee, Paul Anderson, at Anderson's dad's workshop located near Tims Ford Lake. Phillips says he instantly fell in love.
Turkey pot calls like the ones Phillips makes come in two pieces: a round pot often covered in glass, slate, or copper and a striker made from wood or metal. Hunters use the friction of the striker on the call to mimic the sound of the birds. It's the interaction they create with the birds that really appeals to Phillips.
"I just love the fact that the call allows me to talk to them. If I build something from just a chunk of wood, and I can take that into the woods, make a sound with it, and get a turkey to gobble back at me thinking that I'm a hen, that's pretty cool."
He's now graduated to his own woodshop of sorts – an outdoor building that doubles as Lexie's potting shed. It's filled with tools passed down to him by Turner as well as Phillip's maternal great grandfather, Clyde Landers, and Lexie's grandfather, Earl Amacher.
In his pile of wood to be turned sits a piece of old wagon wheel he found at his grandmother's house.
"This was part of a wagon wheel that belonged to my great, great granddad. He used to haul grain to Jack Daniel's from Flat Creek back in the day. Once I got comfortable in my own space with my own tools my creativity really took over," he says.
During our interview, Phillips decides to show me how to make a striker. After letting me pick the piece of wood, Phillips secures it on the wood lathe and tightens the block in place. As it spins, Phillips uses various tools to carve away the wood forming a distinct shape. One end is thicker to make it easy to hold while the other end is polished pencil thin. The tip gets rounded. This is what will make contact with the pot.
As Lexie and I watch, Phillips sands the handle to highlight the wood grain and a surprise pops out – the face of a teddy bear. If you know Josh Phillips, you know his personality is that of a giant teddy bear. It's apropos.
"Well look at that. I've never had that happen. What do you guys think?" he asks.
"Oh, we're definitely pro-teddy bear," Lexie says.
It's surprises like this that make turkey call making just another treasure hunt for Phillips.
He now finds himself constantly "on the hunt" for interesting pieces of wood that might make a good call. In particular, he enjoys finding chunks of burl wood because of its unique grain. They come from a burl – or growth – on a tree that forms on unsprouted bud tissue. It forms a large, knobby-looking growth that looks gnarly on the outside but creates intense wood grain inside.
"It looks like a massive wart on the side of a tree," Phillips says. "They possess a different color and unbelievable pattern but they are hard to come by, so I'm always on the lookout for them."
Hunting and conservation go hand-in-hand
In the end, turkey call making is just another way to combine his love of the outdoors with his love of hunting, though he says the conservation and ecological aspects of the hunt matter more than the trophies.
"There are people at both the state and federal levels that went to school for wildlife biology. They study these animals. They see how many we need to have a healthy population. They also consider how wildlife habitat is getting smaller based on growth. That's what they base their limits on."
It's true that hunting and conservation go hand-in-hand. Wild turkeys had been hunted to near extinction levels just 50 years ago but based on conservation efforts they now thrive. About 3.5 million wild turkeys live in the nation now, up from 30,000 in the early 1940s. That includes around 300,000 in Tennessee. Much of their restoration has been paid for by hunters and hunting licenses.
It's this love of the outdoors, nature, and the animals that Phillips wants to pass along to Maggie Jo on her very first hunt. He says at the end of that day, he gifted the new young hunter the call he used to lure in her first bird.
"I hope it's something she'll keep for the rest of her life to remember that day." •
{The Lynchburg Times is an independently-owned, community newspaper located in Lynchburg, Tennessee the home of The Jack Daniel Distillery. We tells the stories of local folks here in Lynchburg as well as those happening across Tennessee and the American South that we believe may be of interest to our readers. Like what we're doing? You can support us for just $5 per month by following this link.}