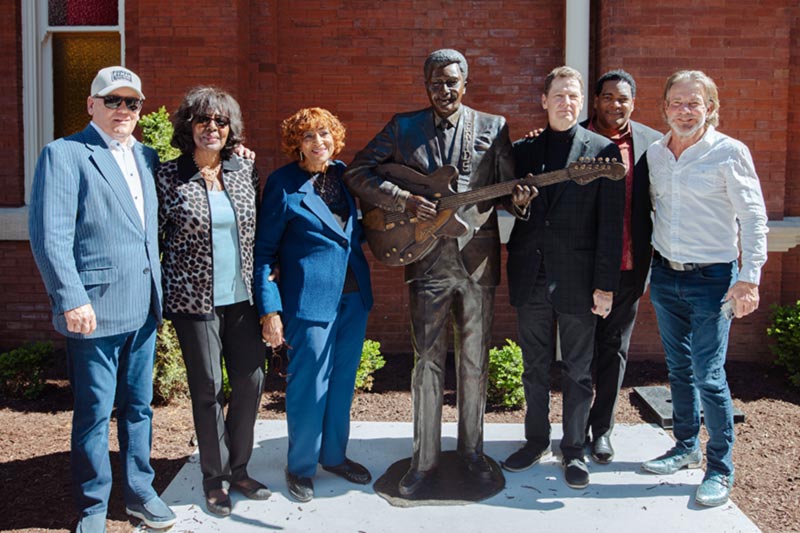 By Tabitha Evans Moore | Editor & Publisher
Before Darius Rucker and Kane Brown, there was Charley Pride; and on Wednesday, the Mother Church of Country Music placed Pride among contemporaries Loretta Lynn, Bill Monroe, and Little Jimmy Dickens on their Icon Walk, which honors country music legends who paved the way for today's artists. Pride died in December 2020 in Dallas due to complications related to COVID-19. His wife, Rozene, and son, Dion, were present on Wednesday to accept the honor on his behalf.
Born in Sledge, Mississippi, Charley Frank Pride came into the world as the fourth of 11 children. He was the grandson of a Mississippi Delta slave and a sharecropper's son. He taught himself to play the guitar at the age of 14 but despite his eventual success in Nashville, country music wasn't his first love. Young Charley Pride dreamed of playing professional baseball and he nearly got there.
In 1952, he became a pitcher for the Memphis Red Sox of the Negro American League and a year later signed a contract with the Boise Yankees – a New York Yankees farm team. During that season, Pride suffered an injury, which would change the trajectory of his life.
The Jackie Robinson of country music
Famed documentary filmmaker Ken Burns once referred to Charley Pride as, "the Jackie Robinson of country music" and both men flung open doors for generations to come by winning over fans one-by-one with their talents – regardless of the color of their skin.
After a tryout with the New York Mets that didn't go his way, Pride visited Nashville and broke into country music when Chet Aktins, the then head of RCA Records, heard a demo tape that Pride recorded at Sun Studios in Memphis and instantly signed him.
It's not disputed that Atkins sent out Pride's first couple of singles to radio stations without a promotional photo but whether that act was deliberate or not remains up for debate. According to a 2014 Pride interview in Last Best News by Brian D'Ambrosio, Pride always assumed that if RCA sent a record to a country radio station in the 1960s, they played it, regardless.
His first two singles fell flat but the third one, Just Between You and Me, reached number nine on the Hot Country Songs chart for the week of February 25, 1967. It would mark the first time a Black artist charted in country music history. Based on that success, Atkins booked Pride at Detroit's Olympia Stadium – the former home of the Redwings – for a nearly sold out show. When the near capacity crowd took their seats, none of them knew Pride was Black.
"I knew I'd have to get it over with sooner or later," Pride later remembered in the liner notes of his 1981 Time-Life Record Country Music: Charley Pride. "I told the audience: Friends, I realize it's a little unique, me coming out here — with a permanent suntan — to sing country and western to you. But that's the way it is."
Pride broke through racial barriers in country music on the edges of the Jim Crow South with a slew of firsts.
Only Elvis sold more records for RCA
In addition to his first live show, the success of Just Between You and Me led Pride to a Grammy nomination the following year. Pride would go on to be the first Black male artist to win a Grammy for Best Male Country Vocal Performance in 1972.
In 1967, Pride became the first Black artist to perform at The Grand Ole Opry since co-founding member and harmonica wizard, Deford Bailey, appeared over 25 years earlier. Between 1969-71, Pride recorded eight singles that reached number one on the US Country Hit Parade. In October 1971, Pride recorded Kiss an Angel Good Mornin' – a tune that skyrocketed him from best-selling artist to international crossover star. It became his eighth number one song on the country charts and peaked at number 21 on the Billboard Hot 100. Legends like George Jones and Conway Twitty would eventually cover it.
That song sold over one million copies and earned Pride the Country Music Association's Entertainer of Year in 1971. He won Male Vocalist of the Year in both 1971 and 1972. The American Music Awards named Pride their Favorite Country Male Artist in 1973 and 1973 and A Sunshiny Day with Charley Pride also earned Favorite Country Album in 1973. He earned Grammy's for individual performance in 1971, 1972, and 1973 and became the first Black artist to win a Grammy in the country category. Over the span of his career, Pride amassed 52 Top 10 and 29 No. 1 Billboard country singles.
He was the first Black artist to have a number one country hit, the first artist of any color to win the CMA's male vocalist two years in a row, the first Black performer to earn the highly-competitive CMA's Entertainer of the Year, and the first Black artist to be inducted into the Country Music Hall of Fame.
In total, Pride sold over 70 million records during his career. Only Elvis Presley sold more records for RCA.
New statue took over a year to create
Pride's new bronze statue at the Ryman Auditorium took sculptor Ben Watts over a year to make. It joins those of Lynn, Monroe, and Dickens previously created by Watt. All four now sit on permanent outdoor exhibition in the Icon Walk at the historic venue. Pride's likeness sits at the northwest corner of the building near the venue's driveway of Fifth Avenue.
The historic Ryman Auditorium sits in Nashville, Tennessee and is known as the Mother Church of Country Music. It was also famously known as the home of the Grand Ole Opry from 1943 to 1974. It is listed on the National Historic Landmarks and was built in 1892. It still hosts over 200 shows a year from a diverse catalog of artists from comedians like Fortune Feimster and Trevor Noah to musicians like Blues Traveler and Tanya Tucker. They also offer self guided and guided tours. To learn more, click here.•
{The Lynchburg Times is an independently-owned, community newspaper located in Lynchburg, Tennessee the home of The Jack Daniel Distillery. We tells the stories of local folks here in Lynchburg as well as those happening across Tennessee and the American South that we believe may be of interest to our readers. Like what we're doing? You can support us for just $5 per month by following this link.}