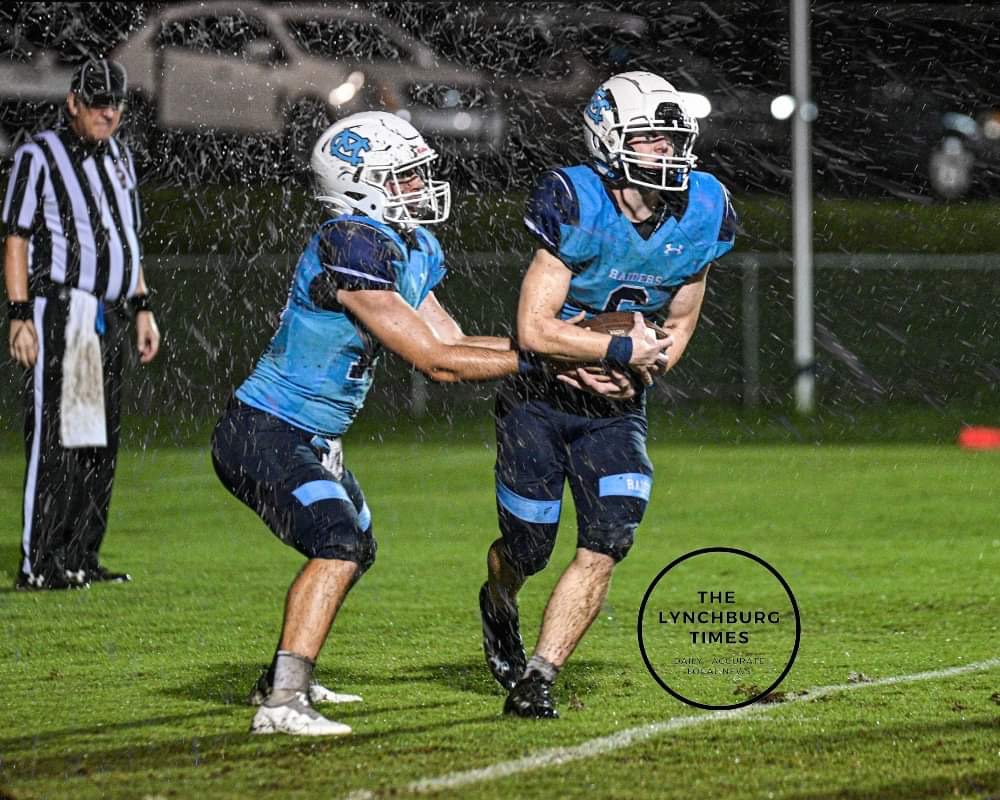 LOCAL NEWS — The Raider coaching staff recently released stats for Friday night's home win against Collinwood and several players, including several younger players, made an impression in the rain in the 27-12 Raider win.
All together, the Raiders put up 296 total yards of offense. With sophomore Keller Morey out due to illness, senior Connor Partin got the start at QB. The option quarterback managed 7 of 19 and 150 yard through the air while calling his own number for another 11 carries and 70 yards on the ground.
In rushing behind Partin, sophomore Dawson White added 12 carries for 55 yards followed by sophomore Logan Hegwood with five carries for 28 yards. Freshman Peyton Martin led in receiving yards with one catch for 48 yards. Sophomore Alex Copeland, junior Will Baker, White, senior Will Harder all managed a single catch and Hegwood snagged two catches for 22 yards.
Partin also led in scoring for the Raiders with two touchdowns followed by both White and Martin with one score each. Junior kicker Blake Bradford was one of one on point after attempts.
On defense, White led with 17 tackles including nine solo tackles. Martin also managed double digits tackles with 12 total as well as a fumble recovery. Senior PJ Barad also had an impressive night on defense with not one but two touchdown saving stops and an interception.
Raiders travel to Cornersville this week
The win over Collinwood moves Moore County to 3-5 overall and 2-2 in Region 5A play. Moore County sits in fourth place in the region behind undefeated Fayetteville City, Cornersville, and Eagleville. The Raiders will travel to Marshall County this Friday to take on Cornersville who enjoys a 6-2 overall record and a 4-1 region record. The Bulldogs lost 38-12 to #7 Clay County on September 10 and to Fayetteville City 18-8 on October 1. Cornersville blanked Wayne County last Friday 31-0.
The Raider playmakers will need to continue stepping up if Moore County plans to get the best of the Cornersville defense whose dominant performances against Huntland, Collinwood, and Wayne County left all three teams scoreless at the end of four quarters. In fact, the Bulldog defense has held opponents to just a five points per game average – allowing just one touchdown in each of their regular season match ups.
The GPS address for Cornersville High School is 323 South Main Street, Cornersville, TN 37047. Cornersville sits between Lewisburg and Pulaski a little over an hour from Lynchburg. For those who can't travel to the game, you can watch the Moore County Sports Network broadcast on the NFHS Network, listen live in the MCSN App, or watch the The Lynchburg Times Facebook page for live updates. •
{The Lynchburg Times is the only Lynchburg-owned newspaper in Moore County. We cover Metro Moore County government, Jack Daniel's Distillery, Nearest Green Distillery, Tims Ford State Park, Motlow State Community College, Moore County High School, Moore County Middle School, Lynchburg Elementary, Raider Sports, plus regional and state news.}