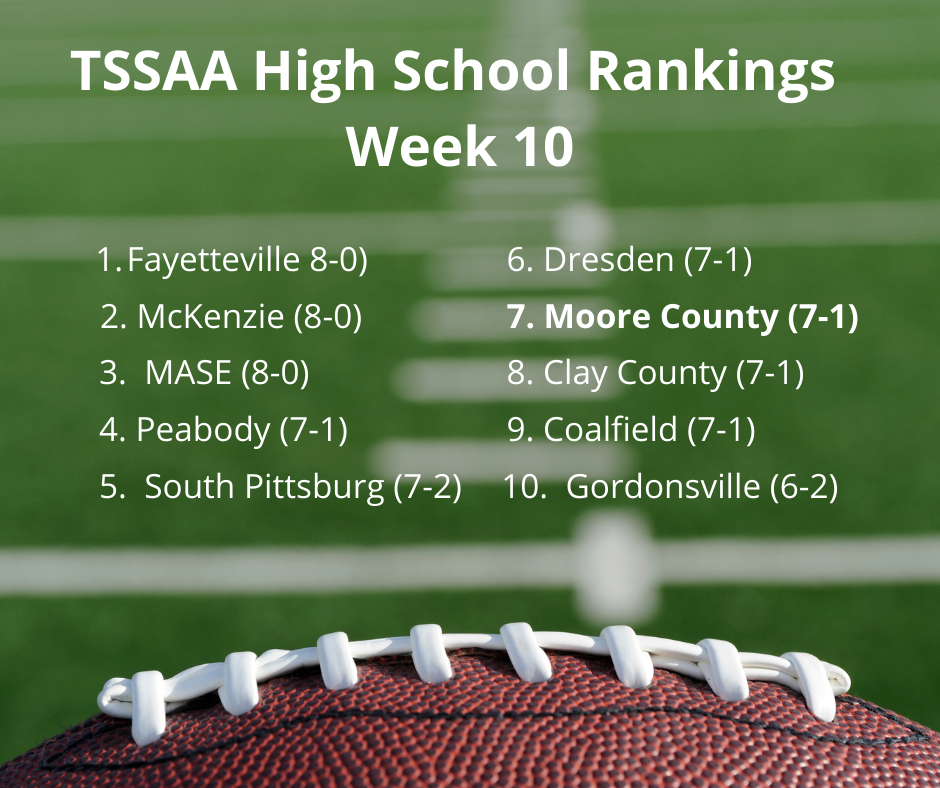 COLLINWOOD, Tenn. — While most folks in Lynchburg were dreaming of barbecue on Friday night, the Moore County Raiders made the nearly two hour trip to Collinwood and put together a 42-0 shut out win of a Region 5A opponent. The win improved the Raiders regular season record to 7-1 and dropped the Trojans to 2-6. As of Monday, the Raiders remained in the AP's High School Football Rankings for Class 1A teams, sitting at the No. 7 spot. The only other Region 5A team to make the Top 10 list is Fayetteville, who remain at the No. 1 spot with a perfect 8-0 record.
In the Region 5A standings, Moore County and Eagleville continue to tie for second place behind Fayetteville. Cornersville and Wayne County both have a 2-3 district record followed by Collinwood with a 1-3 record. Huntland remains winless in Region 5A play.
Hegwood leads with three touchdowns
On Friday, junior Logan Hegwood scored three touchdowns and led the offense with 156 all purpose yards including 148 rushing and another eight through the air.
Raider option QB Dawson White was four of six for 100 yards passing. He called his own number six times for another 79 yards and a rushing touchdown. Keller Morey managed three carries for 12 yards and a touchdown. Will Baker caught two passes for 78 yards including one long touchdown reception.
Raider kicker Blake Bradford managed a perfect six points on six PAT attempts.
On defense, Peyton Martin led with 13 tackles and a fumble recovery followed closely by Landon Smith with nine tackles. Eli Brown earned a sack. Both Bryson Carter and Landon Jolley caused Trojan fumbles during the blow out.
The Raiders return to Doug Price Field this Friday for a Region 5A match up against Cornersville. The Bulldog sit tied for fourth place with Wayne County with a 2-3 district record. They are 2-6 on the year with victories against Huntland and Collinwood and loses at Forrest, Clay County, Eagleville, Fayetteville, and Wayne County.
If you can't attend in person, you can listen for free on The Lynchburg Times Raider Radio or on the NFHS Network. •
{The Lynchburg Times is an independently-owned, community newspaper located in Lynchburg, Tennessee the home of The Jack Daniel Distillery. We focus on public service, non-partisan, rural journalism. We cover the Metro Moore County government, local tourism, Moore County schools, high school sports, Motlow State Community College, as well as whiskey industry news and regional and state stories that affect our readers.}